The Advocate covers the WE DO Campaign
Sunnivie Brydum, a reporter for The Advocate magazine, wrote a piece about the WE DO Campaign titled "A Southern Strategy: Meet the Neighbors."
You can read it here.
---
Telling a New Story About LGBT Life in the South
To date more than 75 LGBT couples have applied for marriage licenses in their hometowns across the South as part of the WE DO Campaign. WATCH:
---
Faith Leaders Speak Out in North Carolina
On Monday, May 20th faith leaders in Buncombe County, North Carolina gathered outside the county courthouse to speak out against laws and proposed policies that negatively impact low-income and minority residents of the state. They were joined by approximately 100 local citizens.
CSE was proud to stand with faith leaders and the NAACP at the rally. Read more here.
---
Buncombe County passes Domestic Partner Benefits for Same-Sex Couples, and adds sexual orientation and gender identity to non-discrimination policy.
The Campaign for Southern Equality is very happy to announce a big victory for LGBT rights in Buncombe County, North Carolina!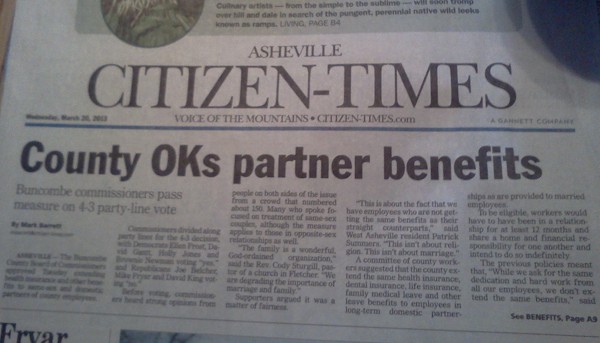 LGBT employees of Buncombe County will now be offered domestic partner benefits. These benefits include health insurance, life insurance, use of leave time, and all entitlements under the Family and Medical Leave Act. Buncombe County has also added sexual orientation and gender identity to its non-discrimination policy. Read more …