4th Circuit Ruling Paves the Way for Marriage Equality in NC, SC, WV and VA
"The Fourth Circuit's ruling in Bostic v. Schafer is yet another clear sign that same-sex couples have a fundamental right to marry under the U.S. constitution. Our clients are grievously harmed – as are all North Carolinians – each day the fundamental right to marry is withheld. These developments in Virginia and North Carolina were truly historic and while some procedural steps remain, these big steps forward mean marriage equality will soon be the law in North Carolina," said Jacob Sussman, lead counsel for plaintiffs in General Synod of the United Church of Christ vs. Cooper and partner at Tin Fulton Walker & Owen.
"In addition, Attorney General Cooper's remarkable public announcement that North Carolina will no longer oppose our lawsuit from moving forward, and that there are "really no arguments left to be made" in defense of North Carolina's ban on marriage equality, hopefully means that our pending motion for a preliminary injunction against Amendment One will be soon be granted."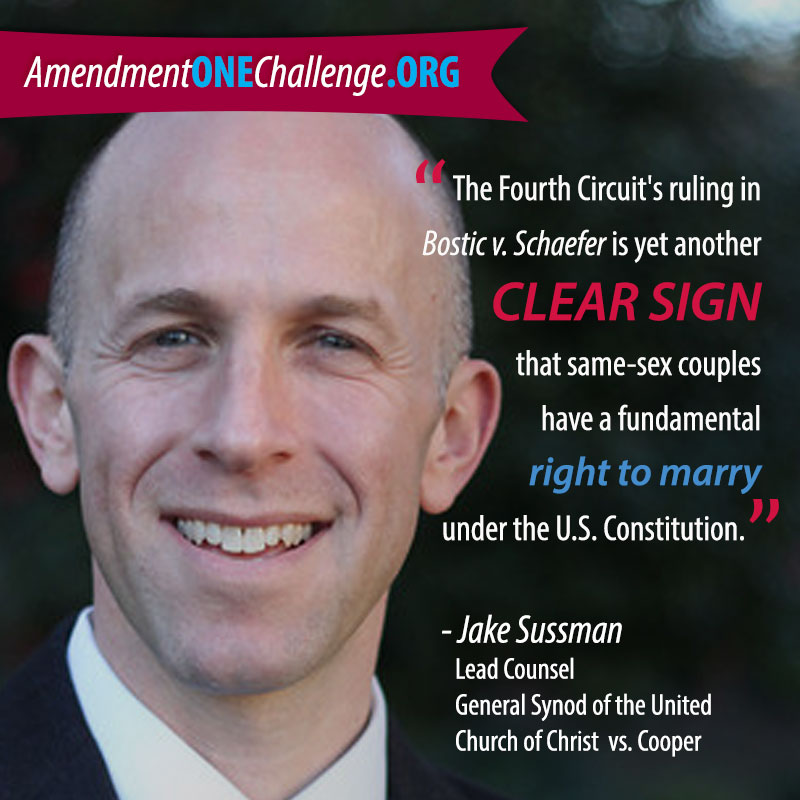 Gay Couple's Courageous Stand in Marion, North Carolina
Keisha and Dericka knew that when they went to the McDowell County Register of Deeds' Office to request a marriage license as part of the WE DO Campaign, they would almost certainly be denied. What they didn't expect, however, was that 150 counter-protestors would hold a rally on the courthouse lawn.
As they stood at the counter, Keisha and Dericka held their heads high and stated their intentions to the clerk. They handed their drivers' licenses to the clerk, who examined them and stated that they were ineligible for a marriage license because they are a same-sex couple. Keisha and Dare explained that they want their family to be recognized by the state of North Carolina and by their hometown of Marion. The clerk refused to accept their application or to write "DENIED" on it.
Keisha (left) and Dericka attempt to submit their application for a marriage license in McDowell County, North Carolina.
"I hope that what we did today can help my future children have a better life," said Dericka. "I hope that no child has to encounter some of the struggles I have."
Upcoming WE DO actions across the South
The Campaign for Southern Equality is launching another round of WE DO actions this summer and fall in South Carolina, Kentucky, Mississippi and Tennessee!
We're winning in the courts and getting ready to head back to the Supreme Court for a 50-state ruling on marriage equality. But now is not the time to sit by and wait for court rulings. It's time to expand our call for full LGBT equality by taking action in the public square across the South.
We're proud to be working with partners like the Gender Benders, an organization for transgender, gender variant and allied folks in upstate South Carolina, who will be leading the July 30th Greenville, South Carolina action. We'd love to have you join us and support the couples as they apply for marriage licenses!
One Year Since DOMA 
A commentary by Rev. Jasmine Beach-Ferrara about the urgency of this moment was published on the one-year anniversary of the DOMA ruling by the Asheville Citizen-Times.
Providing Legal Protections as We Wait for the Laws to Change
During 2014, the Campaign for Southern Equality will offer at least 12 free Community Law Workshops (CLW). The goal of a CLW is to empower LGBT people in the South to protect our rights to the full extent possible under current laws.
Reverend Leslie Oliver and Michelle Wyms hold their completed Health Care Power of Attorney forms. They know that their medical choices will now be respected during an emergency situation.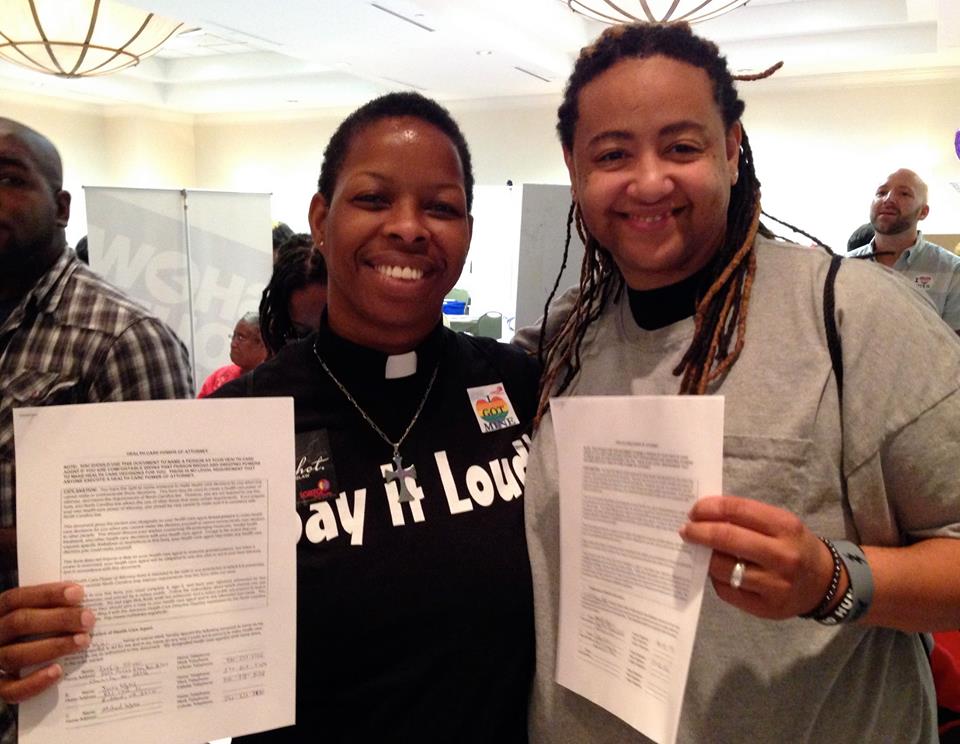 In total, 54 individuals completed a Health Care Power of Attorney document on Saturday at the Campaign for Southern Equality's and the Freedom Center for Social Justice's LGBTQ Law Center's free legal workshop that took place during Charlotte Black Gay Pride!
Attorney General's office responds to Amendment One lawsuit, defends ban on same-sex marriage despite rulings from 15 federal courts
"The State fails to acknowledge the harm suffered by the plaintiff couples — a harm recognized by every court that has considered the issue since Windsor. We are sorely disappointed that the State of North Carolina continues to deny equal rights to all of its citizens. Fifteen federal courts in recent months have made clear – emphatically and unequivocally – that it is unconstitutional for state governments to discriminate against loving and committed couples who want the benefits and security that marriage provides," said Jacob Sussman, an attorney at Tin Fulton Walker & Owen and lead counsel in the case.
Read coverage of the response from the AG's office by Q Notes.
More national denominations join Amendment One lawsuit, seeking religious freedom
National religious denominations including the Alliance of Baptists and the Central Conference of American Rabbis, as well as local clergy from All Souls Episcopal Cathedral in Asheville, N.C. have been added as plaintiffs in a federal lawsuit challenging the constitutionality of North Carolina's marriage laws, General Synod of the United Church of Christ vs. Cooper. Attorneys will file documents today in federal district court to formally amend the complaint.
Read more: bit.ly/1tERJgP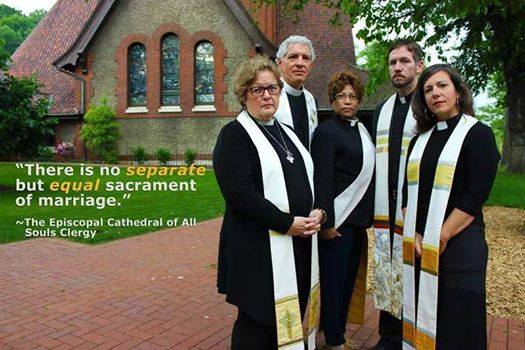 The case challenges the constitutionality of marriage laws in North Carolina – including Amendment One – that ban marriage between same-sex couples and make it illegal for clergy to perform wedding ceremonies for same-sex couples within their congregations.
Learn more about the case and all of the plaintiffs here.
Clergy plaintiffs seek the religious freedom to perform these ceremonies and same-sex couples seek the freedom to marry. The plaintiffs are represented by the law firms of Tin Fulton Walker & Owen and Arnold & Porter LLP.  The Campaign for Southern Equality is coordinating a public education campaign accompanying the case.
Same-Sex Couples Call for Marriage Rights on 2nd Anniversary of Amendment One
On May 8, three same-sex couples applied for marriage licenses at the Wake County Register of Deeds Office in Raleigh, North Carolina along with six legally-married same-sex couples who paid $26 to record their out-of-state marriage licenses.
Read the stories of these brave couples calling for marriage equality in North Carolina: http://bit.ly/1kQBDMw
The couples were joined by family and clergy, including Rev. Nancy Petty of Pullen Memorial Baptist Church in Raleigh and Rev. Doug Long, Trudy and Justine's pastor at Umstead Park United Church of Christ.
The Campaign for Southern Equality mobilizes people all across the South – from the Gulf Coast of Mississippi to the Piedmont of North Carolina – to stand up and tell our country a new story about the urgent need for full LGBT equality in all spheres of life – employment, housing, health care, family rights and marriage.