Legal Workshops for LGBTQ Southerners
During December and January, we will run a series of free Community Law Workshops across Alabama, Mississippi, North Carolina and South Carolina.
This series of free legal workshops, led by volunteer attorneys and transgender leaders, will cover issues such as name changes for trans folks, health care power of attorney documents for LGBTQ youth, how to obtain a passport for gender marker changes and second parent adoptions to help protect LGBTQ families.
We are in new political territory – LGBTQ Southerners and other vulnerable communities are at risk for significant rollbacks of basic rights and legal protections.
Across the South right now LGBTQ people are scared, have questions about their legal rights and often face considerable barriers to accessing clear information, resources and support to protect their rights.
The schedule for the legal workshops is:
Post-Election Rapid Response
The Campaign for Southern Equality is funding a Post-Election Rapid Response round of grants through our Southern Equality Fund, which supports grassroots LGBTQ Southern leaders through direct funding, training and leadership development.
We need new organizing strategies and new models for providing services and support to LGBTQ Southerners. We want to hear your ideas – and we want to fund you.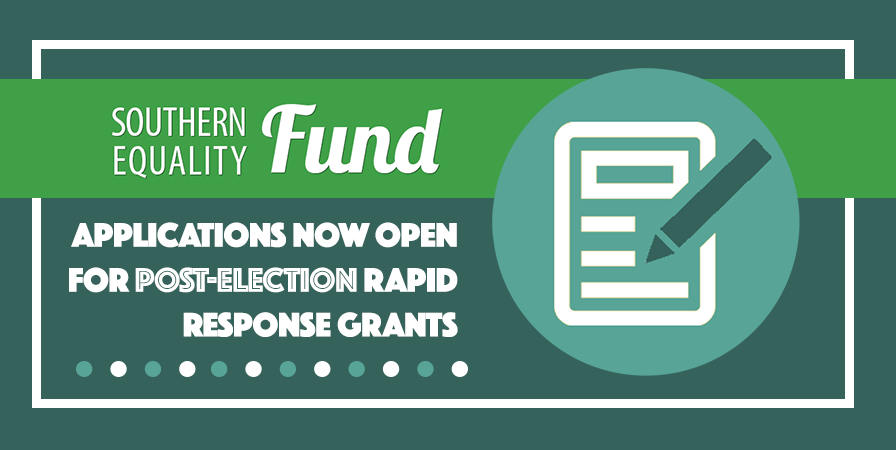 Across the South, we are seeing an alarming uptick in reports of harassment, violence and discrimination targeting LGBTQ people, immigrants, and religious minorities in the South.
Click here to learn more and apply for up to $500 in funding. You can apply as a group or individual and do not have to have 501c3 status.
Trans in the South: A Guide to Services and Resources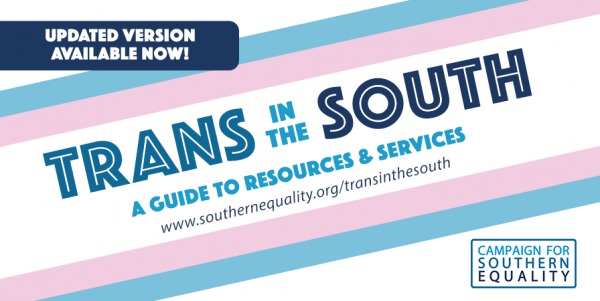 New data from the Williams Institute shows that more than 300,000 trans folks call the South home. Too often, they face a lack of resources and support. We often hear stories of people going without medical care or traveling hours to reach a doctor who will treat them with respect. That's got to change. 
To respond to that need, the Campaign for Southern Equality is releasing Trans in the South: A Guide to Resources and Services.
In the pages of this edition of Trans in the South you'll find lists of trans-friendly service providers – from doctors to attorneys to counselors – across the South as well as resources to assist with funding medical transition.
You can download a PDF of Trans in the South: A Guide to Resources by clicking here.
This information has been collected and vetted by Ivy Gibson-Hill, our LGBT Rights Toolkit Coordinator. We hope this resource guide helps people access the services they need to survive and to thrive.
Supporting Southern Trans Organizers
The Campaign for Southern Equality is excited to launch the Trans Leadership Initiative (TLI), a one-year pilot which will provide intensive support to an incredible group of trans leaders from across the South. The initiative will offer leadership coaching, funding, and technical assistance to grow their leadership and help strengthen their vital work in local communities. The TLI is part of CSE's Southern Equality Fund, which supports grassroots LGBTQ leaders across the South.
"If I didn't have hope knowing that there was a better tomorrow, I would've already given up, because my community is so underserved and I am the only resource where I live for Trans women of color," says Daroneshia Duncan, describing her work leading Transgender Advocates Knowledgeable Empowering in Birmingham, Alabama. Daroneshia is also one of the leaders in the Campaign for Southern Equality's new Trans Leadership Initiative (TLI), a project focused on supporting the leadership of Southern Trans leaders.
Read more about the Trans Leadership Initiative here.
Based in Asheville, North Carolina, the Campaign for Southern Equality is a non-profit organization that advocates for the full equality of LGBT individuals and families across the South.