LGBT* in the South conference
On April 17 & 18, activists and organizers from across the South will gather in Asheville, North Carolina for the 2015 LGBT* in the South. More than 370 individuals have already registered!
Click here to register for two days of amazing workshops and panels!
At this critical time for the equality movement, the conference will connect and educate Southern organizers and local practitioners to better serve the LGBT* community. The core themes of this year's conference are intersectionality and collaboration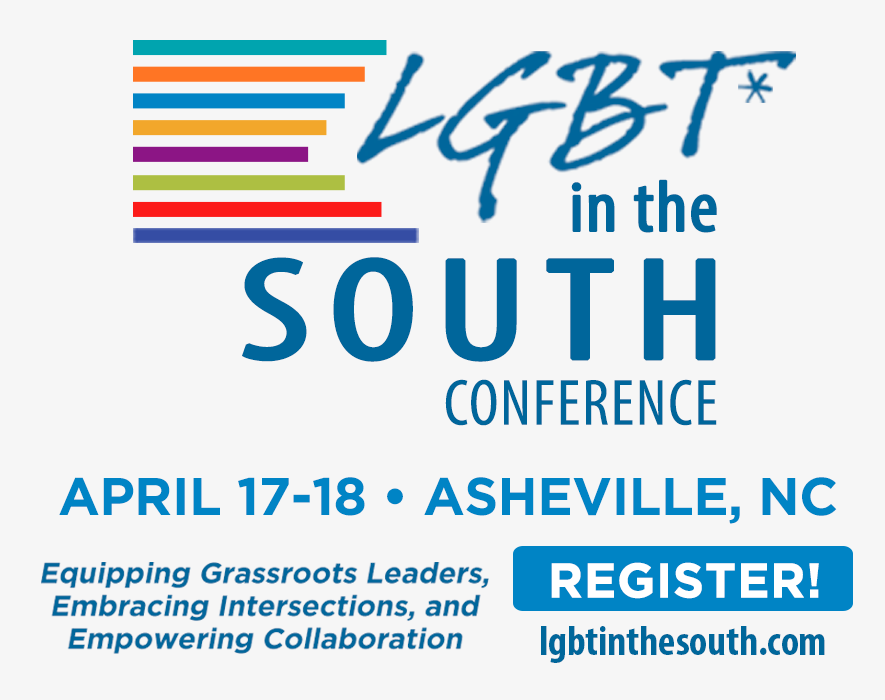 We are honored to have Mandy Carter, a dynamic Southern leader and long-time activist in the civil rights and LGBT movements, as our keynote speaker.
Alabama Supreme Court halts marriage equality
As a response to a ruling by the Alabama Supreme Court ordering a halt to marriage equality across the state, the Campaign for Southern Equality also took action in Mobile, Alabama on Friday. Two brave same-sex couples requested and were denied marriage licenses as part of the WE DO Campaign.
April and Molly, the other couple taking part in the WE DO action, have their wedding set for March 25.
Read more about their story as reported by the San Francisco Chronicle.
The National Center for Lesbian Rights (NCLR) and a coalition of legal groups also filed a federal lawsuit on behalf on same-sex couples across Alabama on Friday. We are hopeful that LGBT couples across Alabama will soon be able to marry.
We'll keep working until justice reaches all 67 counties in Alabama.
CSE files amicus brief with Supreme Court
An amicus brief filed today by the Campaign for Southern Equality and the Equality Federation calls for the U.S. Supreme Court to act quickly to ensure the freedom to marry across the nation. The brief focuses on the reality that gay and lesbian Southerners do not yet possess the political power to achieve equality through the legislative process, despite growing public support for marriage equality.
Click here to read the full brief.
Unfolding developments in Alabama demonstrate the need for swift action from the Supreme Court as detailed in the brief:
"On March 3, 2015, the Alabama Supreme Court – comprised of elected judges – defied a federal court order and halted the issuance of marriage licenses to same-sex couples with a clear invitation to this Court: 'we defer only to the holdings of the United States Supreme Court and our own interpretations of federal law.'"
"Despite growing public support for legal rights, gay people – especially here in the South –  remain politically powerless to change discriminatory state laws. The Supreme Court should not – and constitutionally cannot – wait for political will to match the private courage of gay people to protect the freedom to marry of all Americans," says Meghann Burke, an attorney at Brazil & Burke and CSE's Legal Team Leader.
Anti-LGBT bill advances in North Carolina
In late April, the North Carolina state Senate passed a bill (SB2) that would allow magistrate judges to recuse themselves from performing marriage ceremonies for same-sex couples, actually any couple – if they feel their religious beliefs are being violated.
An article in the Asheville Citizen-Times titled, "Why do politicians cling to marriage discrimination?" lays out the many problems with this proposed law.
In her comments from the article, Rev. Beach-Ferrara of the Campaign for Southern Equality sums up why this bill isn't really about "religious freedom" at all:
"We have the freedom to practice religion in our place of worship and to hold our private beliefs and express those private beliefs. At the same time, in our shared public life, we've agreed that we will be governed by the principles of equality and fairness. We won't elevate one religion over another. (The proposed law) is discriminatory, but it's also contradictory to the theory of separation of church and state." – Rev. Jasmine Beach-Ferrara.
CSE Launches LGBT Rights Toolkit 
The Campaign for Southern Equality has launched a new online LGBT Rights Toolkit (www.lgbtrightstoolkit.org) in order to address the urgent legal needs of LGBT Southerners – especially those is small towns and rural areas – understand and protect their rights.
The Toolkit consists of Health Care Power of Attorney forms for every Southern state, LGBT-friendly attorney and physician lists, links to legal and mental health resources, and Name and Gender Change Guides. It also provides current information about changes in state and federal law against the backdrop of a rapidly-changing legal landscape.
This online toolkit is designed to help LGBT Southerners – especially those in small towns and rural areas – understand and protect their rights.
A report about the Toolkit is available at: http://bit.ly/1zaDQxt
Based in Asheville, North Carolina, the Campaign for Southern Equality is a non-profit organization that advocates for the full equality of LGBT individuals and families across the South.