Resisting HB2: A New Resource for the Trans Community in NC
HB2 is still on the books in North Carolina, a reality that transgender people must navigate each day. To support her transgender clients, Asheville attorney Meghann Burke is providing personalized letters for folks to carry and use if someone questions their right to be in a public restroom.  She shares a redacted version of the letter here so that others can adapt and use it.
HB2 is nothing more than legislative bullying. But it has achieved its intended purpose of expressing moral disapproval of people in our community and instilling fear in our transgender brothers and sisters. This cannot stand, and friends and allies cannot stand idly by" says Burke, who is an attorney at Brazil and Burke, P.A and also leads CSE's Legal Team.
Trans in the South: A Guide to Services and Resources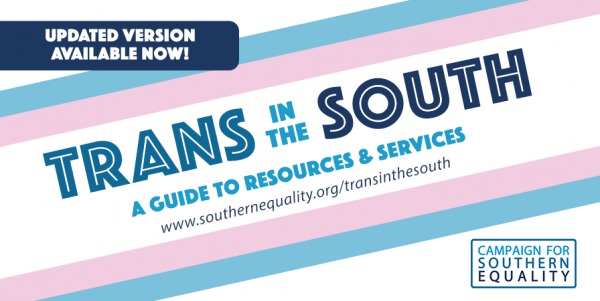 New data from the Williams Institute shows that more than 500,000 trans folks call the South home. Too often, they face a lack of resources and support. We often hear stories of people going without medical care or traveling hours to reach a doctor who will treat them with respect. That's got to change. 
To respond to that need, the Campaign for Southern Equality is releasing Trans in the South: A Guide to Resources and Services.
In the pages of this edition of Trans in the South you'll find lists of trans-friendly service providers – from doctors to attorneys to counselors – across the South as well as resources to assist with funding medical transition. This information has been collected and vetted by Ivy Gibson-Hill, our LGBT Rights Toolkit Coordinator. We hope this resource guide helps people access the services they need to survive and to thrive.
You can download a PDF of Trans in the South: A Guide to Resources by clicking here.
Plaintiffs file appeal of SB2 ruling to 4th Circuit
Plaintiffs challenging SB2, an anti-LGBT law in North Carolina, have immediately filed an appeal to the U.S. Fourth Circuit Court of Appeals in response to a federal district court ruling dismissing their case. Judge Max Cogburn dismissed the lawsuit on issues related to standing.
"Senate Bill 2 expressly declares that magistrates' religious beliefs are superior to their oath of judicial office to uphold and support the federal constitution. And the law spends public money to advance those religious beliefs. That is a straightforward violation of the First Amendment," says Luke Largess, a partner at Tin Fulton Walker & Owen and lead counsel in Ansley v. Warren. "The Court ruled that we were not challenging Senate Bill 2, but only the incidental spending by the Administrative Office of the Courts. That is clearly not the case."
The notice of appeal is available at: www.southernequality.org/wp-content/uploads/2016/09/Ansley-v.-Warren-Notice-of-Appeal.pdf
Show your Pride and stand against HB2!
The shirts are printed at Lightning Bolt Ink, a queer-owned company in Asheville, North Carolina. All proceeds go toward the Campaign for Southern Equality's work to support the Trans community in North Carolina.
The $25 cost includes sales tax and shipping and handling. Click here to order your shirt!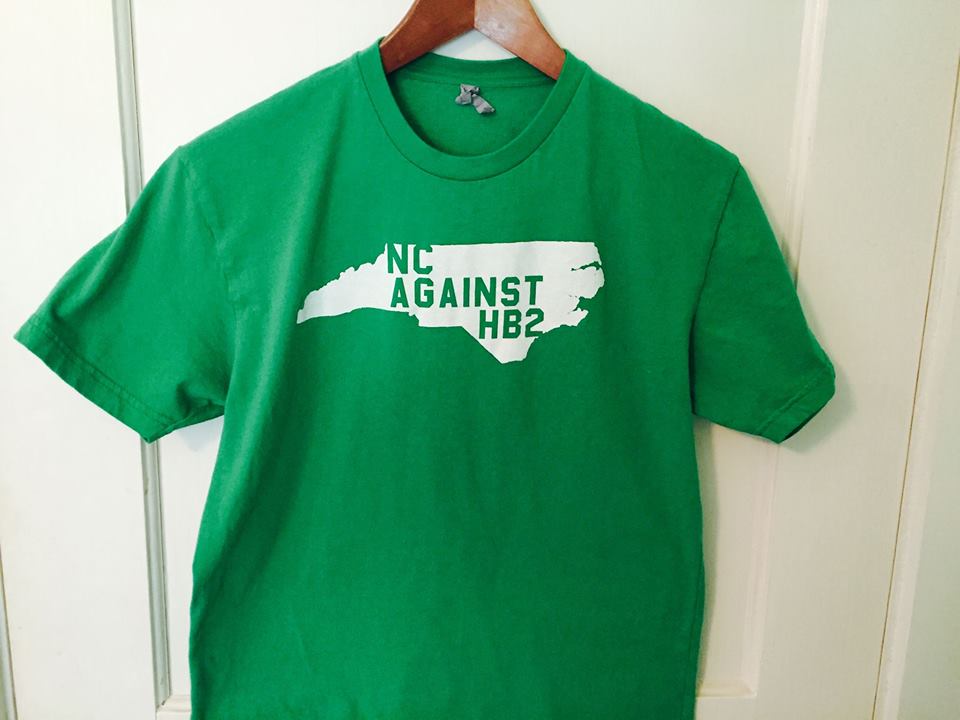 Supporting Southern Trans Organizers
The Campaign for Southern Equality is excited to launch the Trans Leadership Initiative (TLI), a one-year pilot which will provide intensive support to an incredible group of trans leaders from across the South. The initiative will offer leadership coaching, funding, and technical assistance to grow their leadership and help strengthen their vital work in local communities. The TLI is part of CSE's Southern Equality Fund, which supports grassroots LGBTQ leaders across the South.
"If I didn't have hope knowing that there was a better tomorrow, I would've already given up, because my community is so underserved and I am the only resource where I live for Trans women of color," says Daroneshia Duncan, describing her work leading Transgender Advocates Knowledgeable Empowering in Birmingham, Alabama. Daroneshia is also one of the leaders in the Campaign for Southern Equality's new Trans Leadership Initiative (TLI), a project focused on supporting the leadership of Southern Trans leaders.
Read more about the Trans Leadership Initiative here.
Trans Resource Pop-Up Clinics This Summer
The Campaign for Southern Equality will offer trans resource centered pop-up clinics at these 6 Pride events.
Resources we're offering include Funding Your Transition resource guides, name change guides, peer to peer support, voter registration, and journals by trans people for trans people to support trans mental health.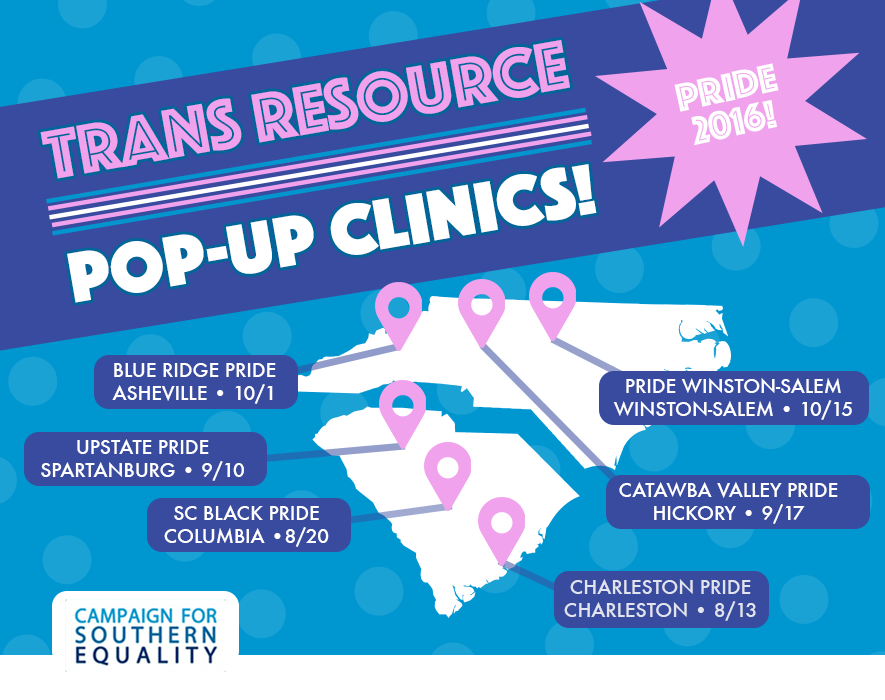 #QueertheVote 
We're excited to announce #QueertheVote, a new round of Southern Equality Fund grants focused on registering and turning out LGBTQ voters* across the South.
We'll be making grants of up to $250 to support grassroots efforts to get folks registered to vote and to the polls. The grant cycle opens right now and will run through October 31 (Election Day is November 8). You can apply as an individual or a group and 501c(3) status is not required to receive a grant.
The Southern Equality Fund is a grantmaking initiative designed to direct resources to Southern LGBTQ grassroots groups and leaders that are under-resourced or isolated due to geography or demographics.
Ready to #QueerTheVote in your community? Apply for Funding Today!
 Federal Court Judge Hears Legal Challenge to HB2 
On August 8 in Asheville, U.S. District Court Judge Max O. Cogburn, Jr. heard the state's motion to dismiss our lawsuit, Ansley v. Warren. Six plaintiffs filed a federal lawsuit challenging Senate Bill 2, the North Carolina law passed in defiance of federal court orders that struck down Amendment One and declared that marriage is a fundamental right for gay and lesbian citizens.
"This law distorts the true meaning of religious freedom. From the day it was proposed, it was clear that SB2 is about one thing and one thing only – finding a new way to discriminate against same-sex couples. We will keep standing up to discrimination until LGBT people are equal in every sphere of life," says Rev. Jasmine Beach-Ferrara, executive director of the Campaign for Southern Equality.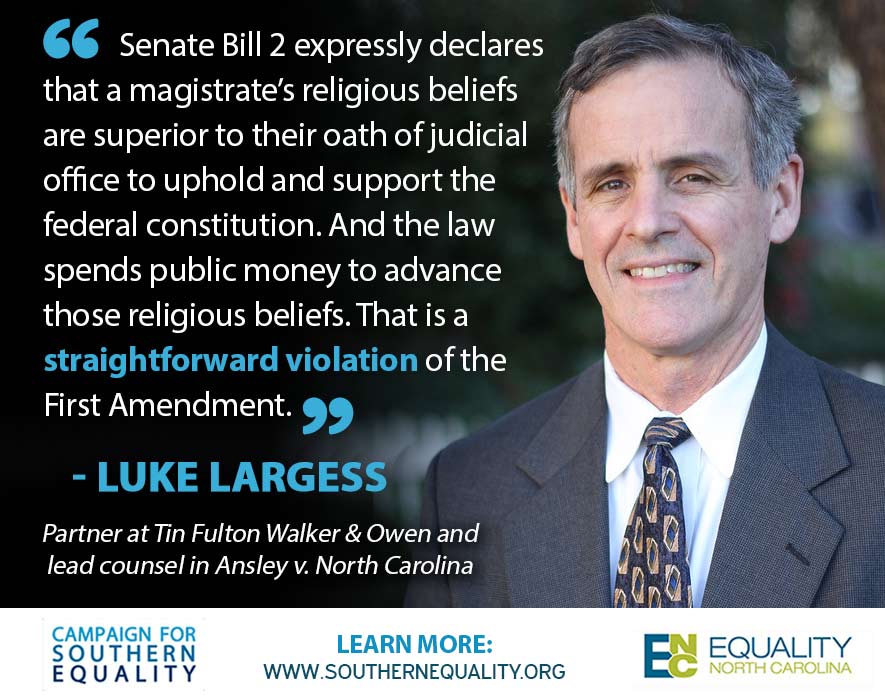 Judge Reeves Strikes Down HB 1523 in Mississippi! 
U.S. District Court Judge Carlton Reeves issued a ruling striking down HB 1523, the nation's most sweeping anti-LGBT law, which was scheduled to go into effect across Mississippi on July 1.
The full 60-page order from Judge Reeves can be read at: www.southernequality.org/wp-content/uploads/2016/07/CSE-v-Barber-Order.pdf
"I am grateful that the court has blocked this divisive law. As a member of the LGBT community and as minister of the Gospel, I am thankful that justice prevailed," says Rev. Susan Hrostowski, an Episcopal priest who is a plaintiff in the case and resident of Hattiesburg, Mississippi.
Based in Asheville, North Carolina, the Campaign for Southern Equality is a non-profit organization that advocates for the full equality of LGBT individuals and families across the South.