Alabama Supreme Court halts marriage equality
Weeks after a United States District Court judge in Mobile ordered a probate judge there to issue same-sex marriage licenses, the Alabama Supreme Court has ordered a halt to same-sex marriages in the state.
"This deeply troubling development illustrates exactly why the U.S. Supreme Court must rule swiftly to ensure that same-sex couples in all 50 states have the freedom to marry. This fight is not over," says Rev. Jasmine Beach-Ferrara, Executive Director, Campaign for Southern Equality.
Anti-LGBT bill advances in North Carolina
Last week the North Carolina state Senate passed a bill (SB2) that would allow magistrate judges to recuse themselves from performing marriage ceremonies for same-sex couples, actually any couple – if they feel their religious beliefs are being violated.
On Wednesday at 12:30 p.m. the North Carolina House Judiciary Committee will hear public comment on SB2. Listen live at http://mobile.ncleg.net/New/Audio/StreamAudio.aspx?stream=415
An article in the Asheville Citizen-Times titled, "Why do politicians cling to marriage discrimination?" lays out the many problems with this proposed law.
In her comments from the article, Rev. Beach-Ferrara of the Campaign for Southern Equality sums up why this bill isn't really about "religious freedom" at all:
"We have the freedom to practice religion in our place of worship and to hold our private beliefs and express those private beliefs. At the same time, in our shared public life, we've agreed that we will be governed by the principles of equality and fairness. We won't elevate one religion over another. (The proposed law) is discriminatory, but it's also contradictory to the theory of separation of church and state." – Rev. Jasmine Beach-Ferrara.
LGBT* in the South conference
On April 17 & 18, hundreds of activists and organizers will gather in Asheville, North Carolina for the 2015 LGBT* in the South.
Click here to register for two days of amazing workshops and panels!
At this critical time for the equality movement in the South, the conference will connect and educate Southern organizers and local practitioners to better serve the LGBT* community. The core themes of this year's conference are intersectionality and collaboration.
More than 150 individuals have already registered!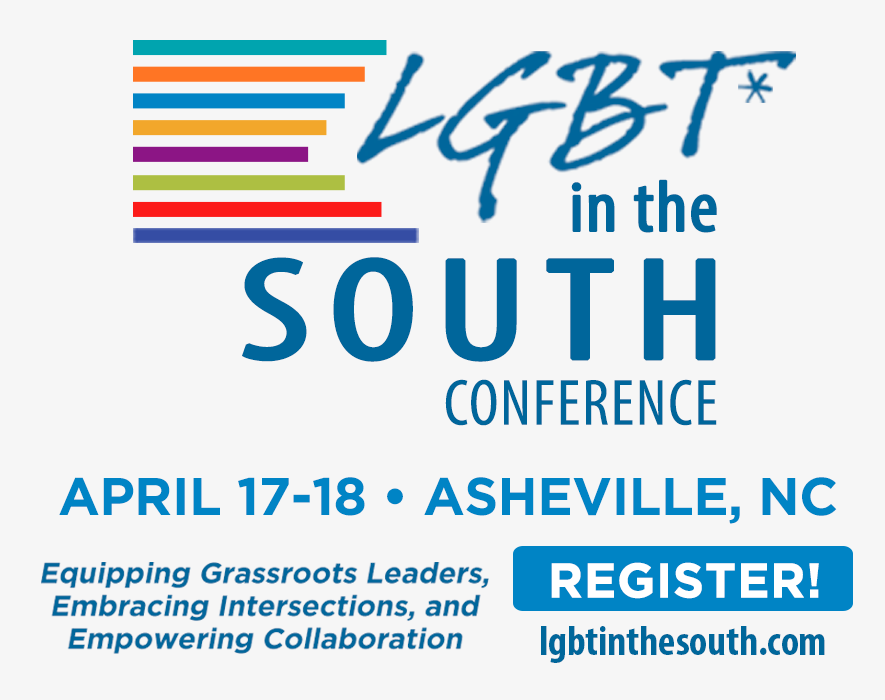 The conference will combine workshops to build organizing skills, facilitated discussions about topics impacting LGBT* Southerners, and Continuing Legal Education (CLE) sessions for attorneys on topics of LGBT* law.
We are honored to have Mandy Carter, a dynamic Southern leader and long-time activist in the civil rights and LGBT movements, as our keynote speaker.
Check out a sneak peek of workshops at the 2015 conference.
CSE Launches LGBT Rights Toolkit 
The Campaign for Southern Equality has launched a new online LGBT Rights Toolkit (www.lgbtrightstoolkit.org) in order to address the urgent legal needs of LGBT Southerners – especially those is small towns and rural areas – understand and protect their rights.
The Toolkit consists of Health Care Power of Attorney forms for every Southern state, LGBT-friendly attorney and physician lists, links to legal and mental health resources, and Name and Gender Change Guides. It also provides current information about changes in state and federal law against the backdrop of a rapidly-changing legal landscape.
This online toolkit is designed to help LGBT Southerners – especially those in small towns and rural areas – understand and protect their rights.
A report about the Toolkit is available at: http://bit.ly/1zaDQxt
LGBT Rights Toolkit by Campaign for Southern Equality
Based in Asheville, North Carolina, the Campaign for Southern Equality is a non-profit organization that advocates for the full equality of LGBT individuals and families across the South.