Trans Resource Pop-Up Clinics This Summer
The Campaign for Southern Equality will offer trans resource centered pop-up clinics at these 6 Pride events.
Resources we're offering include Funding Your Transition resource guides, name change guides, peer to peer support, voter registration, and journals by trans people for trans people to support trans mental health.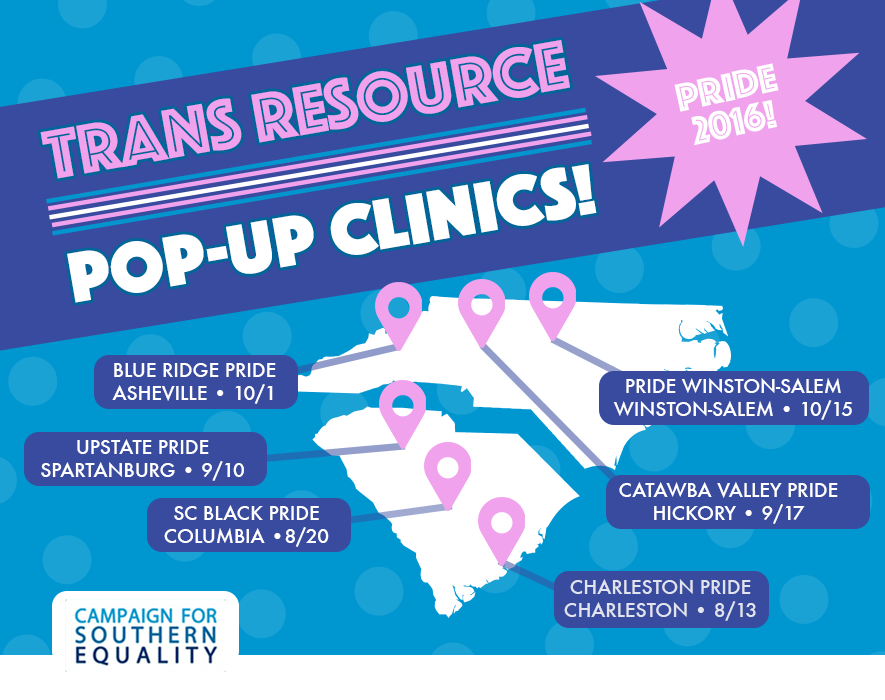 Show your Pride and stand against HB2!
The shirts are printed at Lightning Bolt Ink, a queer-owned company in Asheville, North Carolina. All proceeds go toward the Campaign for Southern Equality's work to support the Trans community in North Carolina.
The $25 cost includes sales tax and shipping and handling. Click here to order your shirt!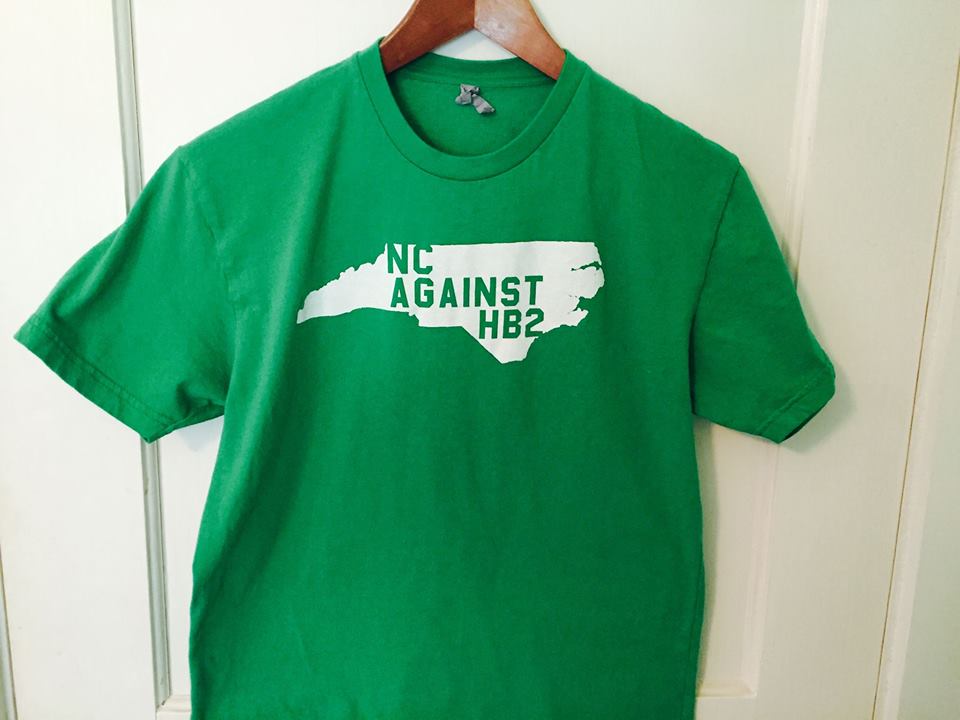 Funding the Future of Queer Youth in NC
The Campaign for Southern Equality is thrilled to announce the most recent round of grantees of the Southern Equality Fund. CSE has awarded $3,350 to nine groups and individuals working to support Queer youth across NC.
This round of funding was inspired by Kat Williams, a Grammy-nominated musician living in Asheville, North Carolina and a dedicated advocate for LGBT youth. When one of her regular gigs, Catholic Charities, told her they'd no longer be needing her services for their annual fundraiser because they learned that she had once been married to a woman—she turned to her community to ask for support and to respond with love. The same day of the Catholic Charities fundraiser in March of 2016, Kat held her own fundraiser in Asheville and raised over $1,500 which she dedicated to the Southern Equality Fund for a round of funding to support Queer youth in NC.
With this round of funding, Kat wanted to send a message to all youth across the state—gay, lesbian, trans, bisexual, queer, gender non-conforming, black, brown, undocumented, disabled—that we see you, we value you, and you are worth investing in. Read more about their projects here.
Federal Court Judge Hears Legal Challenge on SB2, "Magistrate Recusal" Law
On August 8 in Asheville, U.S. District Court Judge Max O. Cogburn, Jr. heard the state's motion to dismiss our lawsuit, Ansley v. Warren.
Six plaintiffs filed a federal lawsuit challenging Senate Bill 2, the North Carolina law passed in defiance of federal court orders that struck down Amendment One and declared that marriage is a fundamental right for gay and lesbian citizens. Senate Bill 2 allows magistrates who do not believe in marriage equality to renounce their judicial oath to uphold and evenly apply the United States Constitution. The plaintiffs are represented by Tin Fulton Walker & Owen, a Charlotte-based law firm that led the legal challenge that struck down Amendment One, and by Meghann Burke, of Asheville-based firm Brazil & Burke.
"This law distorts the true meaning of religious freedom. From the day it was proposed, it was clear that SB2 is about one thing and one thing only – finding a new way to discriminate against same-sex couples. We will keep standing up to discrimination until LGBT people are equal in every sphere of life," says Rev. Jasmine Beach-Ferrara, executive director of the Campaign for Southern Equality.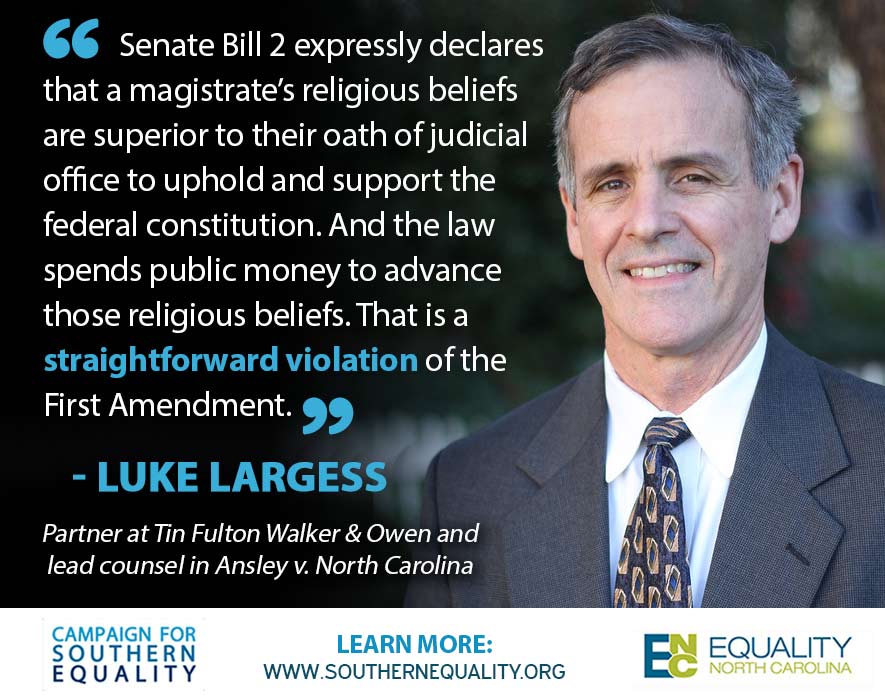 New Court Filings Show Role of Anti-LGBT Group in Passing HB 1523 
"HB 1523 was drafted by the Alliance Defense Fund (ADF), was promoted by the ADF and other conservative Christian groups, and that, as a result, HB1523 improperly and unconstitutionally reflects the sectarian Christian values of these organizations." – Roberta Kaplan.
On July 21, our legal team filed an affidavit from lead counsel Roberta Kaplan documenting the findings of a public records request to Governor Phil Bryant regarding HB 1523 and the role that the Alliance Defense Fund (ADF) played in authoring and passing the law.
The affidavit and supporting exhibits can be found here.
 Judge Reeves Strikes Down HB 1523 in Mississippi! 
U.S. District Court Judge Carlton Reeves issued a ruling striking down HB 1523, the nation's most sweeping anti-LGBT law, which was scheduled to go into effect across Mississippi on July 1.
The full 60-page order from Judge Reeves can be read at: www.southernequality.org/wp-content/uploads/2016/07/CSE-v-Barber-Order.pdf
"I am grateful that the court has blocked this divisive law. As a member of the LGBT community and as minister of the Gospel, I am thankful that justice prevailed," says Rev. Susan Hrostowski, an Episcopal priest who is a plaintiff in the case and resident of Hattiesburg, Mississippi.
Based in Asheville, North Carolina, the Campaign for Southern Equality is a non-profit organization that advocates for the full equality of LGBT individuals and families across the South.