Registration open for the 2016 LGBT* in the South conference
Each year at the LGBT* in the South conference, hundreds have gathered in Asheville to learn, share skills, build strategy and connect with others. The fight for full LGBT* equality in the South is far from over, but together we can get there.
Registration is now open for the 2016 LGBT* in the South conference taking place March 18-20 in Asheville, North Carolina! http://www.lgbtinthesouth.com/register/
The registration fee ranges from $20 to $250 depending on whether you're a student, non-profit professional, organizer or an attorney.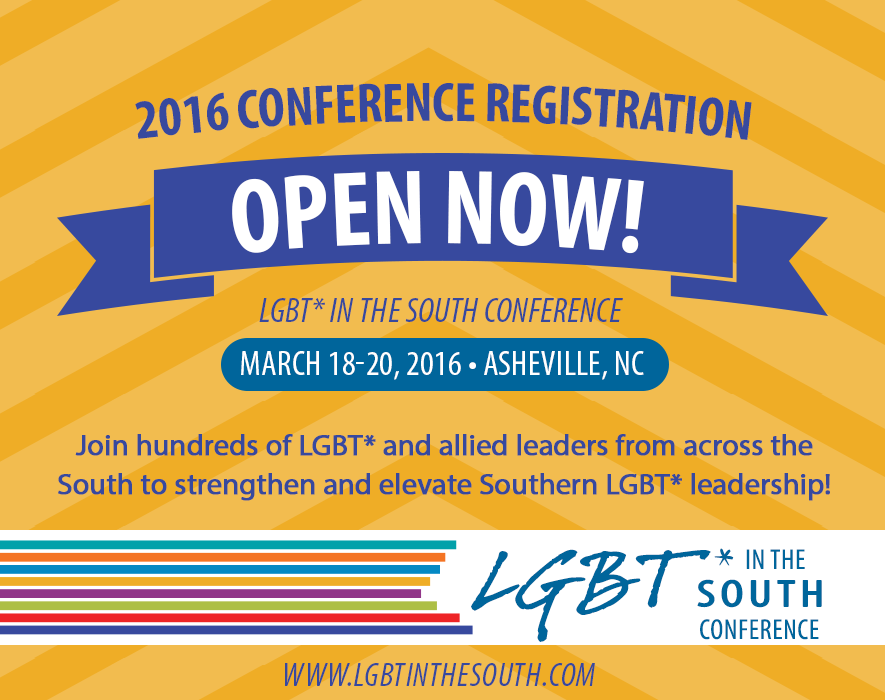 The annual LGBT* in the South conference is a project of the Campaign for Southern Equality  and is planned in partnership with a conference Advisory Committee representative of the diverse Southern LGBT* community.
What Hattiesburg's First Pride Parade Means for the LGBT South
Post-marriage we have a lot of work to do. We've all known that our work in the South wasn't going to end with one court ruling, no matter how historically significant and validating it was. Our next phase of work is more nuanced and and more particular to each local community we work in.
For example why is it so important and so vital to celebrate the first ever Pride parade in Hattiesburg? On the surface, that's an easy question to answer.
What is not awesome about a Pride parade in Mississippi?
But what happens behind the scenes is often more telling, more dynamic. For a glimpse into our travels across the Deep South please read this new article by our Executive Director, Rev. Jasmine beach-Ferrara.
This is the South right now. Bias nakedly expressed rather than hidden, a spring loaded tension in public life. People and communities that are full of promise, full of hope. New leaders doing incredible work, changing this place, starting new public conversations. The change that is possible will come from the South, from Southern leaders who know and understand this place, who call it home, who have no plans to leave.

If we believe that our public lives matter, that the ghosts of the past co-mingle with the new realities we create, then Hattiesburg changed on October 10. LGBT people became, in a new way, part of the the city's public life.
It gets at the heart of the work ahead of us in the LGBT South.
Legal Challenge to Mississippi Adoption Ban
On November 6, Judge Daniel Porter Jordan III held a nearly five hour hearing on Campaign for Southern Equality v. Mississippi Department of Human Services, which seeks to strike down Mississippi's ban on same-sex adoption.
Read about the hearing in the Jackson Clarion-Ledger.
Mississippi is the only state left in the nation that bans gay couples from adopting without regard for their qualifications as parents or the best interests of the child.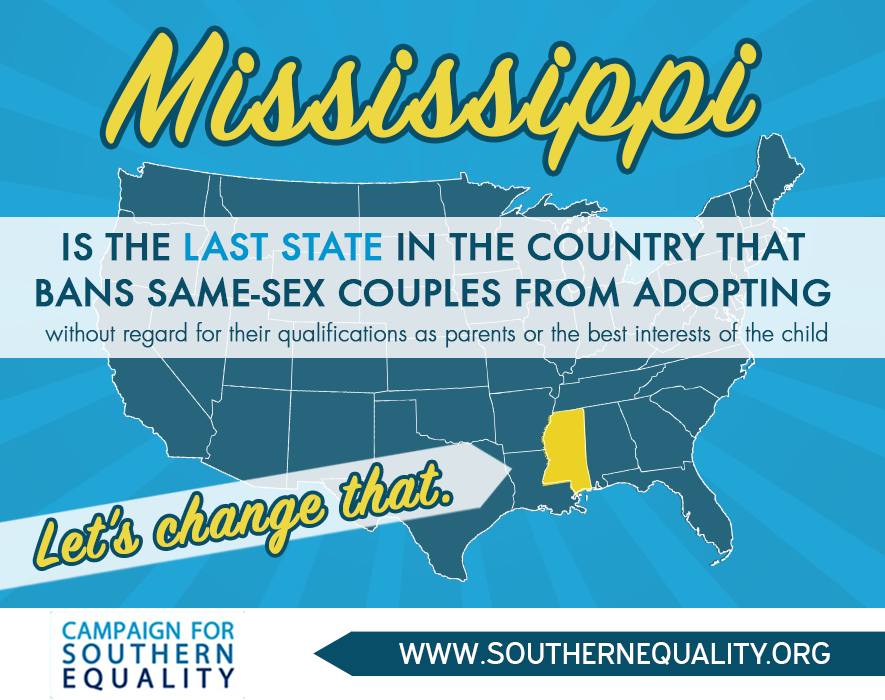 The case was filed in the U.S. District Court for the Southern District of Mississippi on behalf of four same-sex couples: Kari Lunsford and Tinora Sweeten-Lunsford, who are seeking to adopt a child; Brittany Rowell and Jessica Harbuck, also seeking to adopt; Donna Phillips and Janet Smith, parents to a young daughter; and Kathryn Garner and Susan Hrostowski, who have a 15-year-old son.
Read coverage of the lawsuit by the New York Times
Two organizations — the Campaign for Southern Equality and Family Equality Council — join the case as plaintiffs representing the LGBT families across Mississippi.
Lead counsel for the plaintiffs is Roberta Kaplan of Paul, Weiss, Rifkind, Wharton & Garrison LLP.  Plaintiffs are also represented by Mississippi attorney Robert McDuff of McDuff & Byrd, based in Jackson, Mississippi.
Southern Equality Fund 
The Campaign for Southern Equality has launched the Southern Equality Fund with grants to eight organizations and individuals working to achieve legal and lived equality for LGBT people in the South. The Fund is a grantmaking initiative designed to direct resources to grassroots LGBT groups and elevate LGBT leadership across the South, especially in small towns and rural areas.
More than 3 in 10 LGBT adults live in the South – a higher number of LGBT adults than any other region – but Southern LGBT organizations receive less than 4 percent of national funding.
The second set of grantees are all projects located in Mississippi:
The Spectrum Center, which will use the grant to organize the first ever Pride celebration in Hattiesburg, Mississippi: Hattiesburg Unified Southern Pride;
Unity Mississippi, which is organizing Mississippi Pride 2015 to coincide with a marriage equality ruling from the Supreme Court in late June;
The Inner Light Community Church, a group dedicated to creating safe spaces for diverse communities in Jackson and countering oppressive theology;
An LGBT art exhibition that will feature the works of LGBT artists in North Mississippi.
Based in Asheville, North Carolina, the Campaign for Southern Equality is a non-profit organization that advocates for the full equality of LGBT individuals and families across the South.