Safe Schools, Safe Communities: New Funding Available

Do you  need funding for your work? We've just launched Safe Schools, Safe Communities, a new round of rapid response grants to promote safety in schools and communities across the South.
We're open to all kinds of ideas. If it will make your community safer, we want to hear about it – whether you're organizing a rally to speak out against violence against trans women of color; hosting trainings to provide sanctuary for undocumented immigrants; educating legislators about the importance of access to affordable healthcare; or building a coalition of staff, faculty and parents to reduce bullying against LGBTQ, immigrant and Muslim students.
We need all of these efforts and more to protect and defend those who are most vulnerable in our communities across the South.
Click here to apply for funding today. Grants are up to $500 and, once you apply, we'll get back to you within one month.
We believe that organizers on the frontlines of the Southern LGBTQ movement can transform our region—but they need the funding and support to do so. Through our Southern Equality Fund, CSE redistributes a percentage of our funding to grassroots leaders doing vital and transformative work in their communities across the South. The fund prioritizes groups and individual leaders whose access to funding and support is limited due to barriers such as not having 501c3 status, or being located in a rural area.
Protect Yourself: Free Clinics Across the South
LGBTQ Southerners face real risks of physical attack, intimidation and threats. So far in 2017, at least nine transgender women of color have been murdered in our country, four of whom lived in the South. Trans youth in the South regularly report bullying and threats in schools.
To respond, we've just kicked off a new series of free "Protect Yourself" clinics focused on safety issues. Led by and for transgender folks, the clinics feature a self defense class, training in using pepper spray and safety apps, and HIV testing and counseling.
Read about how our recent Charlotte, NC, clinic helped one community member feel safer.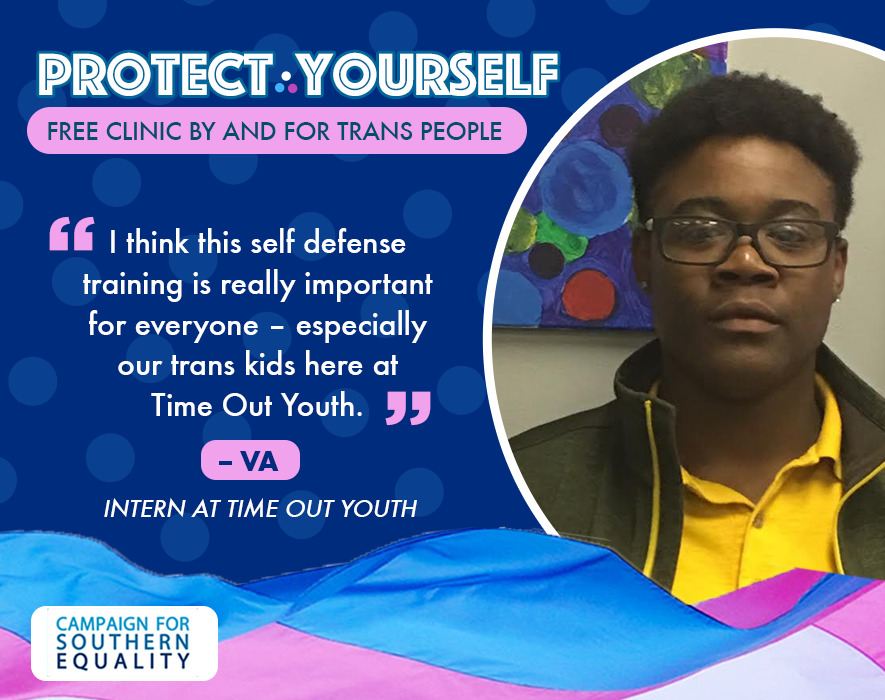 Between now and June, we're running 14 "Protect Yourself" clinics across North Carolina, South Carolina, Alabama, Georgia and Tennessee.
Our schedule of clinics is:
The First 100 Days in First 100 Days in the LGBTQ South
During the first 100 days of the Trump administration we've seen a whirlwind of discriminatory bills crop up at the state level, a number of individuals with anti-LGBTQ records appointed to office, and a sentiment of uneasiness spreading through our communities.
Our staff team at CSE has written reflections on the first 100 days:
Jasmine Beach-Ferrara, Executive Director
One feature of the First 100 Days has been a degree of chaos. In February, for example, it appeared imminent that the White House was going to sign an executive order allowing discrimination against LGBTQ people. Then at the last minute, they didn't. But the drafted executive order still sits there and we stand here, ready.
This is a difficult period and for so many, a frightening one. But every time I see a community attacked or threatened, I also see us standing up in greater number. I hear a new story of bravery – a trans community college student in a rural NC county fights for his right to use the appropriate restroom, a community coming together to support a youth at risk for deportation, the hundreds of thousands who have rallied at airports and in the streets to make clear that resistance and love are alive in America. This is what's keeping me going right now.
Ivy Hill, LGBTQ Rights Toolkit Coordinator
Much of my work with our Toolkit programing since the election has been centered around direct services pop-up clinics. But the series of clinics we're running right now feels more important than any we've done before.
We're traveling across the South running free Protect Yourself Clinics organized by and for trans people. The clinics feature a basic self defense course, HIV testing, personal safety planning, training in how to install and use safety apps on your phone, and practice using pepper spray.
This feels particularly important because trans people, and more specifically trans women of color, are under attack in our country. I could write about the devastating effects of transphobia, misogyny, racism, and violence on our community at length, but it would do nothing to help the next trans person who is attacked. Conversely, this basic self defense knowledge, and pepper spray may give them enough time to get away, and save their lives.
So, dearest Chay Reed, Alphonza Watson, Jaquarrius Holland, Chyna Gibson, Ciara McElveen, Mesha Caldwell, Jamie Lee Wounded Arrow, Keke Collier, Jojo Striker, and all those who have been misgendered and misnamed in death: We will honor your memory by working to empower trans people with tools for staying safe, and to keep our people alive.
Click here to read all of the stories from the CSE Team.
Trans in the South: A Guide to Services and Resources
New data from the Williams Institute shows that more than 300,000 trans folks call the South home. Too often, they face a lack of resources and support. We often hear stories of people going without medical care or traveling hours to reach a doctor who will treat them with respect. That's got to change. 
To respond to that need, the Campaign for Southern Equality is releasing Trans in the South: A Guide to Resources and Services.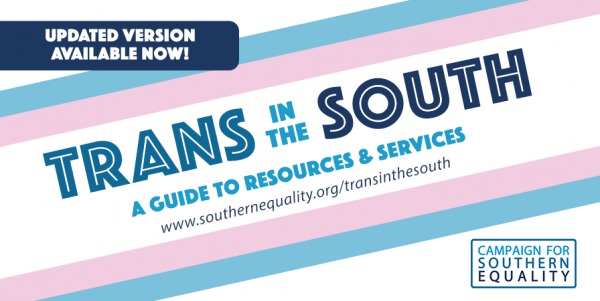 In the pages of this edition of Trans in the South you'll find lists of trans-friendly service providers – from doctors to attorneys to counselors – across the South as well as resources to assist with funding medical transition.
You can download a PDF of Trans in the South: A Guide to Resources by clicking here.
This information has been collected and vetted by Ivy Gibson-Hill, our LGBT Rights Toolkit Coordinator. We hope this resource guide helps people access the services they need to survive and to thrive.
Based in Asheville, North Carolina, the Campaign for Southern Equality is a non-profit organization that advocates for the full equality of LGBT individuals and families across the South.