13 Alabama Counties Losing Thousands in Revenue Over Denial of Marriage Licenses
Alabama counties are missing out on thousands of dollars in revenue as a result of probate judges closing marriage license offices. The 13 counties that are not currently issuing marriage licenses are forfeiting an estimated $132,106.50 in annual revenue.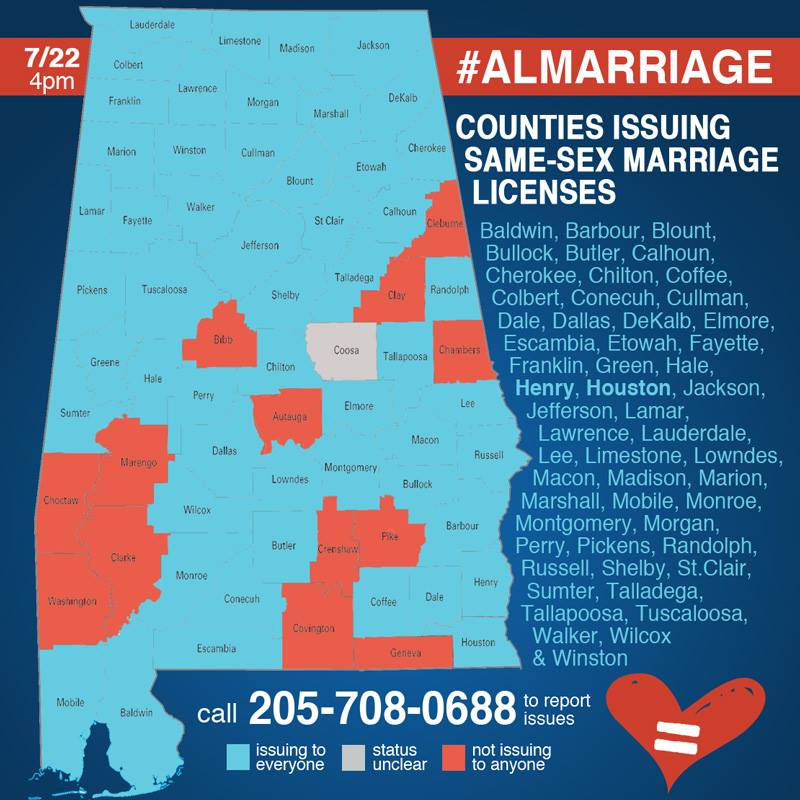 The Campaign for Southern Equality published a fact sheet about the impact of these closures titled "Closed for Business: Fact Sheet on Marriage Non-Complaince in Alabama."
The full fact sheet is at: http://bit.ly/1MWiTut.
Despite no longer performing a vital aspect of their jobs, probate judge and probate court employees in those 13 continue to be paid their full salaries and benefits. Across the state, probate judges' salaries range from $52,500 to $155,000 annually.
Mississippi marriage plaintiffs marry
On Sunday, July 5, Andrea Sanders and Becky Bickett – plaintiffs in Campaign for Southern Equality v. Bryant, the federal marriage equality lawsuit that won the freedom to marry in Mississippi – finally got married! CSE offers the warmest congratulations to the beautiful family who helped make marriage equality happen in Mississippi.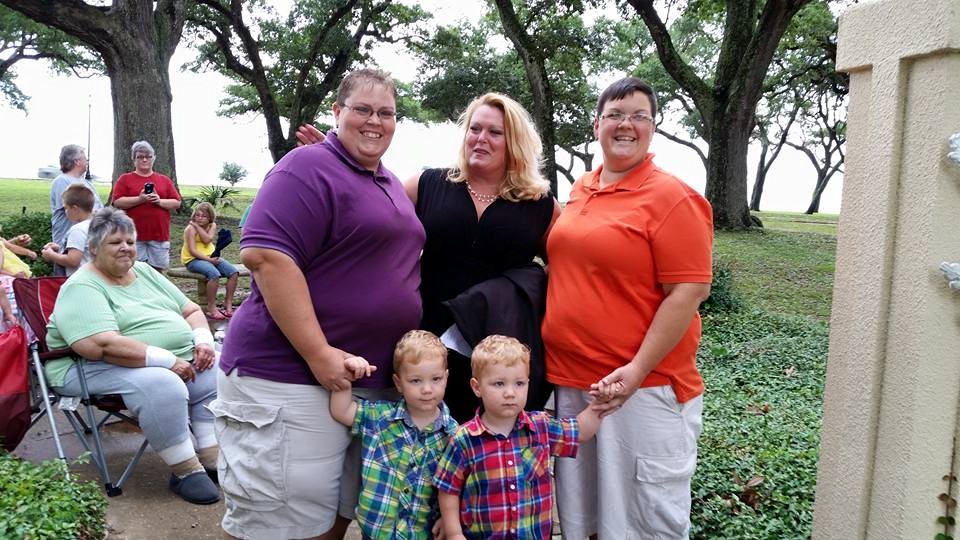 Southern Equality Fund launches 
The Campaign for Southern Equality has launched the Southern Equality Fund with grants to eight organizations and individuals working to achieve legal and lived equality for LGBT people in the South. The Fund is a grantmaking initiative designed to direct resources to grassroots LGBT groups and elevate LGBT leadership across the South, especially in small towns and rural areas.
More than 3 in 10 LGBT adults live in the South – a higher number of LGBT adults than any other region – but Southern LGBT organizations receive less than 4 percent of national funding. In the South, this translates to $1.71 of funding per LGBT adult annually, this compares with $10.10 per LGBT adult each year in the Northeast. The Southern Equality Fund combats this lack of resources by funding projects across the South.
The following grants were made to participants at the 2015 LGBT* in the South conference:
The Elite Project of AIDS Alabama, an HIV outreach and resource program in Birmingham, Ala., which will use their grant to promote their services;
Henderson Fuerza Activa, a Latino community organization in Henderson, NC, which will use their grant to get a billboard;
People Being Jesus, a service-oriented ministry in Hendersonville, NC, which will use their grant to cover operating costs;
Transgender Allies Group, an effort to connect transgender North Carolinians to trans-competent legal, health and mental health practitioners. The grant will be used for a video about suicide prevention.
The second set of grantees are all projects located in Mississippi:
The Spectrum Center, which will use the grant to organize the first ever Pride celebration in Hattiesburg, Mississippi: Hattiesburg Unified Southern Pride;
Unity Mississippi, which is organizing Mississippi Pride 2015 to coincide with a marriage equality ruling from the Supreme Court in late June;
The Inner Light Community Church, a group dedicated to creating safe spaces for diverse communities in Jackson and countering oppressive theology;
An LGBT art exhibition that will feature the works of LGBT artists in North Mississippi.
"The South receives just a tiny sliver of funding in the national LGBT movement. The need for services and advocacy is immediate and profound. Getting resources to the South isn't just a strategic mandate, it's a moral one. There are incredible leaders across the South who are brave, creative and resourceful. But they need resources to execute their work," said Rev. Jasmine Beach-Ferrara, executive director of the Campaign for Southern Equality.
CSE is actively raising funds for the next cycle of grants which will be announced in the fall of 2015.
Hundreds gather for second annual LGBT* in the South conference
We were thrilled to have 500 activists and organizers from across 17 states join us in Asheville!
"When you have change happening for women, for people of color, for LGBT people and their allies, that's permanent, that stays," said Mandy Carter the keynote speaker at the conference, who helped co-found Southerners on New Ground and the National Black Justice Coalition.
Learn more at: www.lgbtinthesouth.com.
Based in Asheville, North Carolina, the Campaign for Southern Equality is a non-profit organization that advocates for the full equality of LGBT individuals and families across the South.