Winston-Salem Recognizes Same-Sex Marriage Through New Policy
The City of Winston-Salem, North Carolina has announced a new policy to recognize the legal out-of-state marriage licenses of LGBT city employees and extend standard employee benefits to their families. Winston-Salem is believed to be the first municipality in North Carolina to recognize married LGBT couples.
Read more about this historic policy.
Supreme Court issues stay in 4th Circuit case
The U.S. Supreme Court has responded to the Fourth Circuit Court of Appeals and issued a stay in the Bostic case. This means that couples in the Virginias and the Carolinas cannot immediately exercise their fundamental right to marry as recognized by the Fourth Circuit.
We are disappointed in today's action by the Supreme Court. Every day that same-sex couples in the 4th Circuit – and across the country – are not able to marry, LGBT families are harmed.
But we remain hopeful that the Supreme Court will take up a marriage equality case in short order. As many legal experts have speculated, we could even see a 50-state ruling as soon as June of 2015. Advocates on both sides have petitioned the Supreme Court for a ruling that would settle the issue.
In every single case heard by a federal judge since the Supreme Court's landmark decision striking down parts of the Defense of Marriage Act, federal judges have ruled that marriage is a fundamental right that can't be denied to same-sex couples. We are confident that marriage equality will be a reality in the South – it's a question of when, not if.
Read more about the stay issued by the Supreme Court from legal analyst Chris Geidner.
Providing Legal Protections as We Wait for the Laws to Change in the South
On August 16 at Charlotte Pride, 144 individuals completed a Health Care Power of Attorney document!
During 2014, the Campaign for Southern Equality will offer at least 12 free Community Law Workshops (CLW). The goal of a CLW is to empower LGBT people in the South to protect our rights to the full extent possible under current laws.
Reverend Leslie Oliver and Michelle Wyms hold their completed Health Care Power of Attorney forms. They know that their medical choices will now be respected during an emergency situation.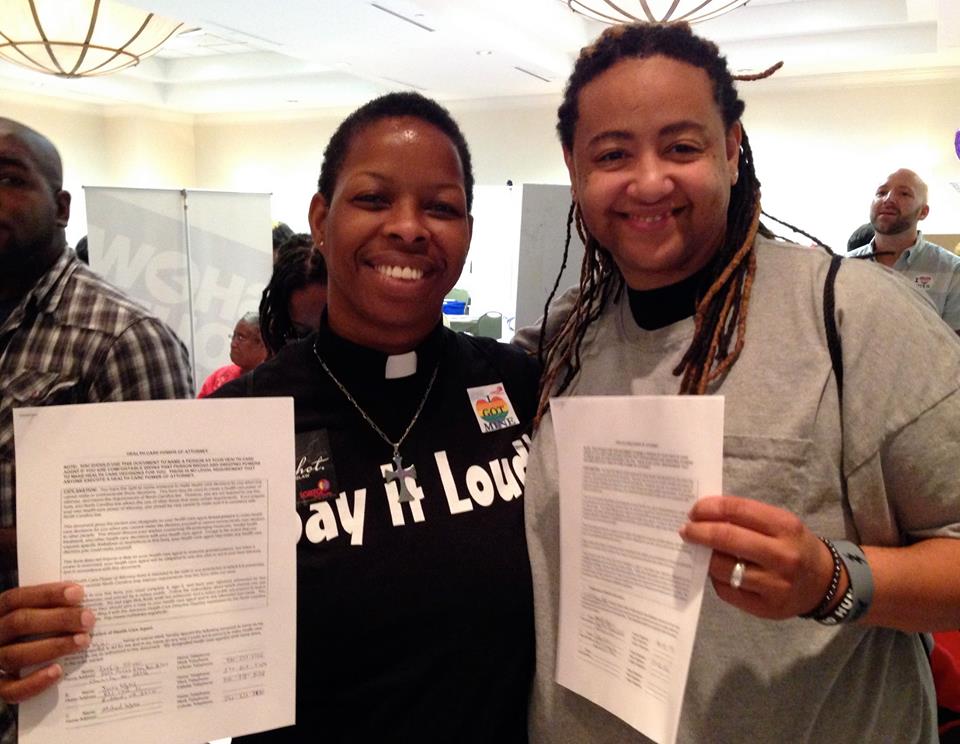 In total, 54 individuals completed a Health Care Power of Attorney document on Saturday at the Campaign for Southern Equality's and the Freedom Center for Social Justice's LGBTQ Law Center's free legal workshop that took place during Charlotte Black Gay Pride!
LGBT Couples Across Mississippi Record Marriage Licenses on August 13
On August 13, couples in eight Mississippi counties recorded their out-of-state marriage licenses with their local chancery clerks, creating a public record of married LGBT. In Harrison County, three couples were denied the right to record their marriage licenses.
The Washington Blade reported on why married couples in Mississippi are taking this step.
"We feel it is our duty to contribute however we can," Charlene says. Dee and Charlene, who have been together since 1986, hope that recording their marriage license in Hinds County will bring awareness to the fact that married same-sex couples live in Mississippi, but aren't treated equally under state law.
The couple didn't plan on being married outside of Mississippi, but they had the opportunity to have a wedding thanks to the efforts of their family and friends. Dee's nephew turned over his frequent flier miles to the couple, and they had their wedding in a friend's living room in Massachusetts in 2013.
LGBT Couples Apply for Marriage Licenses in Greenville, South Carolina
On July 28, the 4th U.S. Circuit Court of Appeals issued a ruling that Virginia's ban on same-sex marriage is unconstitutional. The same day South Carolina Attorney General Alan Wilson announced he would continue to defend the state's ban on same-sex marriage.
Just two days later, five LGBT couples living in South Carolina went to the Probate Court in Greenville to apply for marriage licenses as part of the WE DO Campaign.
Click here to meet the 5 couples who took action and see a photo round-up of the day.
Gay Couple's Courageous Stand in Marion, North Carolina
Keisha and Dericka knew that when they went to the McDowell County Register of Deeds' Office to request a marriage license as part of the WE DO Campaign, they would almost certainly be denied.
What they didn't expect, however, was that 150 counter-protestors would hold a rally on the courthouse lawn.
As they stood at the counter, Keisha and Dericka held their heads high and stated their intentions to the clerk. They handed their drivers' licenses to the clerk, who examined them and stated that they were ineligible for a marriage license because they are a same-sex couple. Keisha and Dare explained that they want their family to be recognized by the state of North Carolina and by their hometown of Marion. The clerk refused to accept their application or to write "DENIED" on it.
Keisha (left) and Dericka attempt to submit their application for a marriage license in McDowell County, North Carolina.
"I hope that what we did today can help my future children have a better life," said Dericka. "I hope that no child has to encounter some of the struggles I have."
Same-Sex Couples Call for Marriage Rights on 2nd Anniversary of Amendment One
On May 8, three same-sex couples applied for marriage licenses at the Wake County Register of Deeds Office in Raleigh, North Carolina along with six legally-married same-sex couples who paid $26 to record their out-of-state marriage licenses.
Read the stories of these brave couples calling for marriage equality in North Carolina: http://bit.ly/1kQBDMw
The couples were joined by family and clergy, including Rev. Nancy Petty of Pullen Memorial Baptist Church in Raleigh and Rev. Doug Long, Trudy and Justine's pastor at Umstead Park United Church of Christ.
The Campaign for Southern Equality mobilizes people all across the South – from the Gulf Coast of Mississippi to the Piedmont of North Carolina – to stand up and tell our country a new story about the urgent need for full LGBT equality in all spheres of life – employment, housing, health care, family rights and marriage.