We're Hiring!
Interested in joining the CSE team? We are currently accepting applications for the Tzedek Social Justice Fellowship focused on Operations and Engagement at The Campaign for Southern Equality.

The Tzedek Social Justice Fellowship is a transformational experience for emerging social justice leaders that builds the capacity of organizations to effect change in Asheville and beyond. Visit the Tzedek website to learn more! www.tzedekfellowship.org
#Stand With Gavin
"Gavin, thank you for speaking for those who have been unheard and those who are unable to speak up for themselves. You are empowering trans students by showing them that there is another option. We don't have to remain silent and submit to oppressive policies. We can and must use our voices and stand up for each other now more than ever." – Ivy Gibson-Hill, Campaign for Southern Equality.
Read Ivy's full letter to Gavin here.
Supporting Southern Trans Organizers
The Campaign for Southern Equality is excited to launch the Trans Leadership Initiative (TLI), a one-year pilot which will provide intensive support to an incredible group of trans leaders from across the South. The initiative will offer leadership coaching, funding, and technical assistance to grow their leadership and help strengthen their vital work in local communities. The TLI is part of CSE's Southern Equality Fund, which supports grassroots LGBTQ leaders across the South.
"If I didn't have hope knowing that there was a better tomorrow, I would've already given up, because my community is so underserved and I am the only resource where I live for Trans women of color," says Daroneshia Duncan, describing her work leading Transgender Advocates Knowledgeable Empowering in Birmingham, Alabama. Daroneshia is also one of the leaders in the Campaign for Southern Equality's new Trans Leadership Initiative (TLI), a project focused on supporting the leadership of Southern Trans leaders.
Read more about the Trans Leadership Initiative here.
Until they repeal it, we will resist it.

HB2 continues to be disaster for North Carolina. Thousands of people have protested its attempt to mandate discrimination against transgender and other LGBTQ North Carolinians. #DefyHB2 is a new campaign to resist HB2.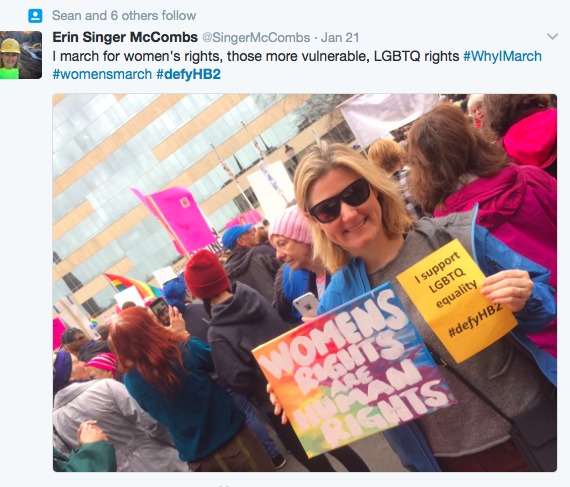 Ready to get started?
Post a selfie saying "I STAND FOR LGBTQ EQUALITY IN NC" and use the #DefyHB2 hashtag. Feel free to get creative!
Post a shout out to your favorite business or organization that pays a living wage or has gender inclusive restrooms. Example: ".@HighFiveCoffee, thx 4 having all-gender restrooms & paying living wage #DefyHB2"
If you're ready to do more than just post, check out #DefyHB2 – Act Now for actions that take an even stronger stand against HB2.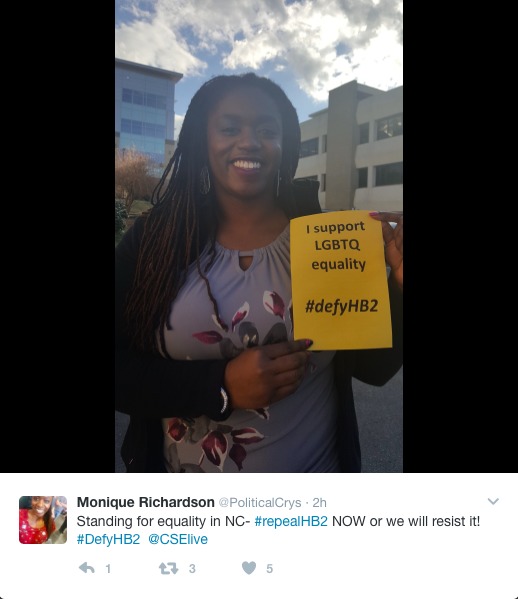 Trans in the South: A Guide to Services and Resources
New data from the Williams Institute shows that more than 300,000 trans folks call the South home. Too often, they face a lack of resources and support. We often hear stories of people going without medical care or traveling hours to reach a doctor who will treat them with respect. That's got to change. 
To respond to that need, the Campaign for Southern Equality is releasing Trans in the South: A Guide to Resources and Services.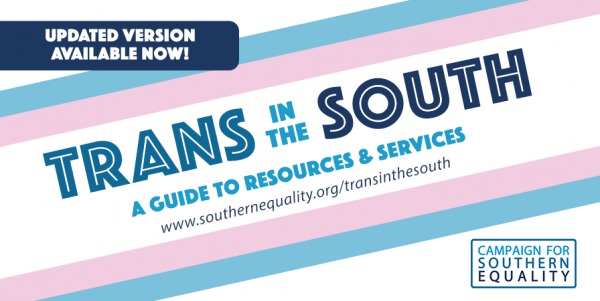 In the pages of this edition of Trans in the South you'll find lists of trans-friendly service providers – from doctors to attorneys to counselors – across the South as well as resources to assist with funding medical transition.
You can download a PDF of Trans in the South: A Guide to Resources by clicking here.
This information has been collected and vetted by Ivy Gibson-Hill, our LGBT Rights Toolkit Coordinator. We hope this resource guide helps people access the services they need to survive and to thrive.
Based in Asheville, North Carolina, the Campaign for Southern Equality is a non-profit organization that advocates for the full equality of LGBT individuals and families across the South.