The Advocate covers the WE DO Campaign
Sunnivie Brydum, a reporter for The Advocate magazine, wrote a piece about the WE DO Campaign titled "A Southern Strategy: Meet the Neighbors."
You can read it here.
---
On May 8, 2012 Amendment One passed in North Carolina, enshrining discrimination into the North Carolina Constitution. But the story didn't end there.
Starting the next morning, on May 9th CSE raced across 10 town and cities in North Carolina and stood with LGBT couples and their supporters, saying "WE DO."
More than 40 LGBT couples applied for marriage licenses as part of the WE DO Campaign in their hometowns across North Carolina. In Wilson, Durham, Winston-Salem, Asheville, Charlotte, Asheboro, Bakersville and Marshall, brave LGBT couples and their allies have stood up and said we are fully equal and called for full equality under the law.
WATCH:
---
Buncombe County becomes 4th county in N.C. to pass Domestic Partner Benefits for Same-Sex Couples, and adds sexual orientation and gender identity to non-discrimination policy.
The Campaign for Southern Equality is very happy to announce a big victory for LGBT rights in Buncombe County, North Carolina!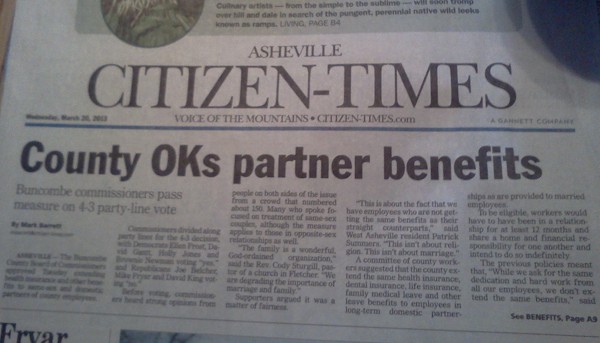 LGBT employees of Buncombe County, North Carolina will now be offered domestic partner benefits. These benefits include health insurance, life insurance, use of leave time, and all entitlements under the Family and Medical Leave Act. Buncombe County becomes the 4th county in North Carolina to offer domestic partner benefits to LGBT couples, joining Durham, Mecklenburg and Orange counties. Buncombe County has also added sexual orientation and gender identity to its non-discrimination policy. Read more …