Post-Election Rapid Response
The Campaign for Southern Equality is funding a Post-Election Rapid Response round of grants through our Southern Equality Fund, which supports grassroots LGBTQ Southern leaders through direct funding, training and leadership development.
We need new organizing strategies and new models for providing services and support to LGBTQ Southerners. We want to hear your ideas – and we want to fund you.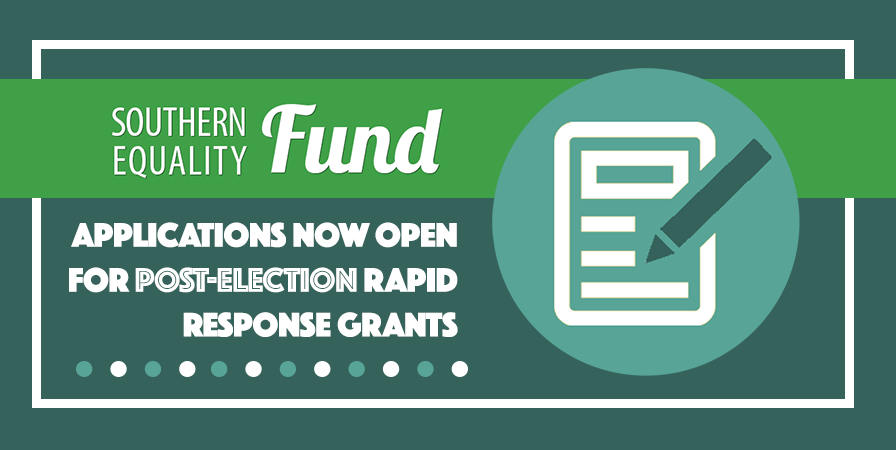 Across the South, we are seeing an alarming uptick in reports of harassment, violence and discrimination targeting LGBTQ people, immigrants, and religious minorities in the South.
Click here to learn more and apply for up to $500 in funding. You can apply as a group or individual and do not have to have 501c3 status.
Legal Workshops for LGBTQ Southerners
We are in new political territory – LGBTQ Southerners and other vulnerable communities are at risk for significant rollbacks of basic rights and legal protections.
Since 2011, the Campaign for Southern Equality has worked across the South for LGBT rights. Our primary focus from now through January 20 is responding to the urgent legal needs of LGBTQ Southerners.
During December and January, we will run a series of free Community Law Workshops across Mississippi, North Carolina and South Carolina.
This series of free legal workshops, led by volunteer attorneys and transgender leaders, will cover issues such as name changes for trans folks, health care power of attorney documents for LGBTQ youth, how to obtain a passport for gender marker changes and second parent adoptions to help protect LGBTQ families.
Across the South right now LGBTQ  people are scared, have questions about their legal rights and often face considerable barriers to accessing clear information, resources and support to protect their rights.
The schedule for the legal workshops is:
January 7th – Henderson, North Carolina
January 7th – Winston-Salem, North Carolina
January 12th to the 16th – Cities across Mississippi
Your gift today – whether it is $5 or $250 – will allow us to respond to immediate needs in the LGBTQ community and be a forceful, vigilant voice for LGBTQ legal rights.
Thank you for standing with us.
Rev. Jasmine Beach-Ferrara
Executive Director, Campaign for Southern Equality
SB 2 Lawsuit: New Brief Filed in Appeal to 4th Circuit
In this new political landscape, lawsuits like the SB2 challenge matter even more to protect hard won rights and to defeat new forms of discrimination.  Our Legal Team and plaintiffs have filed a new appeal brief to the 4th Circuit in this case, appealing a September 2016 ruling from Judge Max Cogburn  that dismissed the lawsuit on issues related to standing.
The appeal brief is available at:
http://www.southernequality.org/wp-content/uploads/2016/11/4thCircuitAppeal_Nov2016.pdf
"Senate Bill 2 expressly declares that magistrates' religious beliefs are superior to their oath of judicial office to uphold and support the federal constitution. And the law spends public money to advance those religious beliefs. That is a straightforward violation of the First Amendment," says Luke Largess, a partner at Tin Fulton Walker & Owen and lead counsel in Ansley v. Warren. "The Court ruled that we were not challenging Senate Bill 2, but only the incidental spending by the Administrative Office of the Courts. That is clearly not the case."  Read more about the case here.
CSE Family Dinner – What's next for LGBTQ rights?
LGBTQ people and allies of all ages are invited to join us for an Asheville Family Dinner on November 21.
You can RSVP on the Facebook page for this event.
We're gathering to support each other as a community and CSE staff will be on hand to talk and answer questions about how we will move forward.
Trans in the South: A Guide to Services and Resources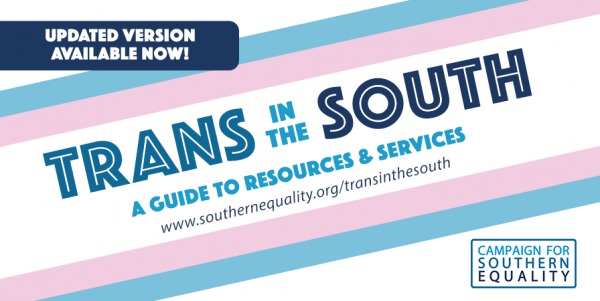 New data from the Williams Institute shows that more than 500,000 trans folks call the South home. Too often, they face a lack of resources and support. We often hear stories of people going without medical care or traveling hours to reach a doctor who will treat them with respect. That's got to change. 
To respond to that need, the Campaign for Southern Equality is releasing Trans in the South: A Guide to Resources and Services.
In the pages of this edition of Trans in the South you'll find lists of trans-friendly service providers – from doctors to attorneys to counselors – across the South as well as resources to assist with funding medical transition.
You can download a PDF of Trans in the South: A Guide to Resources by clicking here.
This information has been collected and vetted by Ivy Gibson-Hill, our LGBT Rights Toolkit Coordinator. We hope this resource guide helps people access the services they need to survive and to thrive.
The Long Game: Building LGBTQ Political Power in the South
The Campaign for Southern Equality has authored a new piece titled "The Long Game: Building LGBTQ Political Power in the South.
Limited legislative power and a lack of elected representation — the focus of this piece — and are two classic symptoms of political powerlessness. LGBTQ Southerners face both.
This lack of representation feeds directly into the problem of limited legislative power. Despite growing public support for LGBTQ equality in the South, we still cannot reliably stop discriminatory anti-LGBTQ laws or pass protective measures. Under state law, in every Southern state, it remains legal to fire a person for simply being lesbian, gay or bisexual (EEOC guidance and other court rulings may protect transgender workers may under federal law).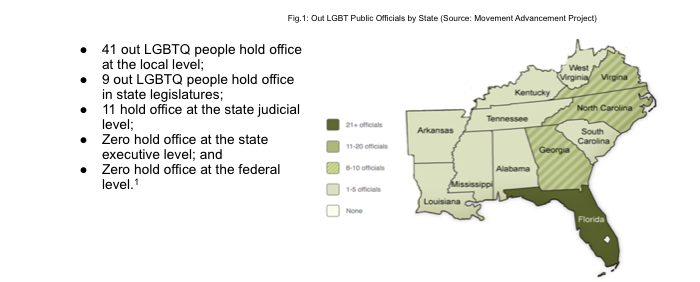 Resisting HB2: A New Resource for the Trans Community in NC
HB2 is still on the books in North Carolina, a reality that transgender people must navigate each day. To support her transgender clients, Asheville attorney Meghann Burke is providing personalized letters for folks to carry and use if someone questions their right to be in a public restroom.  She shares a redacted version of the letter here so that others can adapt and use it.
HB2 is nothing more than legislative bullying. But it has achieved its intended purpose of expressing moral disapproval of people in our community and instilling fear in our transgender brothers and sisters. This cannot stand, and friends and allies cannot stand idly by" says Burke, who is an attorney at Brazil and Burke, P.A and also leads CSE's Legal Team.
Supporting Southern Trans Organizers
The Campaign for Southern Equality is excited to launch the Trans Leadership Initiative (TLI), a one-year pilot which will provide intensive support to an incredible group of trans leaders from across the South. The initiative will offer leadership coaching, funding, and technical assistance to grow their leadership and help strengthen their vital work in local communities. The TLI is part of CSE's Southern Equality Fund, which supports grassroots LGBTQ leaders across the South.
"If I didn't have hope knowing that there was a better tomorrow, I would've already given up, because my community is so underserved and I am the only resource where I live for Trans women of color," says Daroneshia Duncan, describing her work leading Transgender Advocates Knowledgeable Empowering in Birmingham, Alabama. Daroneshia is also one of the leaders in the Campaign for Southern Equality's new Trans Leadership Initiative (TLI), a project focused on supporting the leadership of Southern Trans leaders.
Read more about the Trans Leadership Initiative here.
Judge Reeves Strikes Down HB 1523 in Mississippi! 
U.S. District Court Judge Carlton Reeves issued a ruling striking down HB 1523, the nation's most sweeping anti-LGBT law, which was scheduled to go into effect across Mississippi on July 1.
The full 60-page order from Judge Reeves can be read at: www.southernequality.org/wp-content/uploads/2016/07/CSE-v-Barber-Order.pdf
"I am grateful that the court has blocked this divisive law. As a member of the LGBT community and as minister of the Gospel, I am thankful that justice prevailed," says Rev. Susan Hrostowski, an Episcopal priest who is a plaintiff in the case and resident of Hattiesburg, Mississippi.
Based in Asheville, North Carolina, the Campaign for Southern Equality is a non-profit organization that advocates for the full equality of LGBT individuals and families across the South.