CSE is based in Asheville, North Carolina, and works across the South to promote full LGBT equality. Through our multi-pronged approach, we are telling a new story about LGBT lives in the South. 
1. Using the WE DO Campaign and Litigation to win marriage equality in the South. 
We are working  for marriage equality across the South through the combined tactics of direct action with the WE DO Campaign and litigation in North Carolina and Mississippi.
The WE DO Campaign involves LGBT couples requesting marriage licenses in their hometowns across the South in order to call for full equality under federal and state law and to resist discriminatory marriage laws. Married LGBT couples are also recording their legal out-of-state marriage licenses in their home counties to create a public record of their love and commitment.
General Synod of the UCC v. Reisinger is the case that won marriage equality in North Carolina and the Campaign for Southern Equality was honored to be part of the team behind this case. 
On Friday, October 10 U.S. District Judge Max O. Cogburn Jr. struck down Amendment One, granting LGBT couples in North Carolina the freedom to marry.
"For two years too long Amendment One was on the the books, but now we celebrate knowing that this shameful chapter in North Carolina's history has passed. At the same time we know that you can still be fired simply for being gay in North Carolina," says Rev. Jasmine Beach-Ferrara, Executive Director of the Campaign for Southern Equality.
Campaign for Southern Equality v. Bryant
A federal challenge to Mississippi's law banning same-sex marriage was filed on October 20 in the Southern District of Mississippi on behalf of two same-sex couples, – Andrea Sanders and Rebecca Bickett, and Jocelyn Pritchett and Carla Webb – and the Campaign for Southern Equality.
Campaign for Southern Equality v. Bryant challenged the constitutionality of marriage laws in Mississippi. U.S. District Court Judge Carlton W. Reeves issued a ruling on November 25 in Campaign for Southern Equality v. Bryant, striking down Mississippi's ban on same-sex marriage. The full order from Judge Reeves can be read here: http://bit.ly/1thJuaT
CSE has been advocating for LGBT equality across Mississippi since 2012 through a series of public actions.
2. The Hometown Organizing Project helps empower local leaders to promote lived equality in towns across the South and to build the political power of the LGBT community in the South by providing resources, training and support in local advocacy, service and visibility projects.
Registration open for the 2016 LGBT* in the South conference
Each year at the LGBT* in the South conference, hundreds have gathered in Asheville to learn, share skills, build strategy and connect with others. Registration is now open for the 2016 LGBT* in the South conference taking place March 18-20 in Asheville, North Carolina! http://www.lgbtinthesouth.com/register/
The registration fee ranges from $20 to $250 depending on whether you're a student, non-profit professional, organizer or an attorney.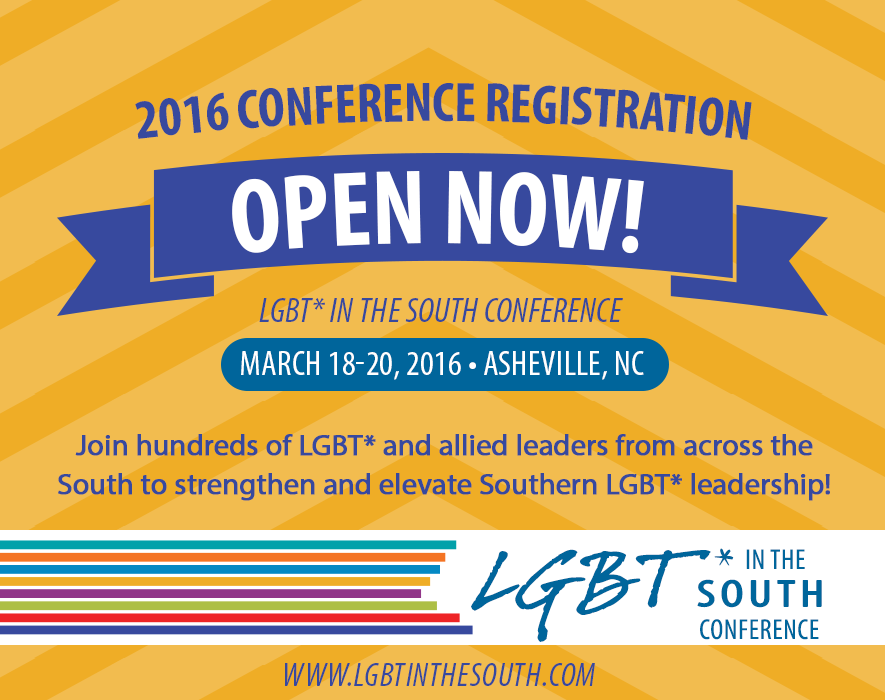 The annual LGBT* in the South conference is a project of the Campaign for Southern Equality  and is planned in partnership with a conference Advisory Committee representative of the diverse Southern LGBT* community.
Southern Equality Fund 
The Campaign for Southern Equality has launched the Southern Equality Fund with grants to eight organizations and individuals working to achieve legal and lived equality for LGBT people in the South. The Fund is a grantmaking initiative designed to direct resources to grassroots LGBT groups and elevate LGBT leadership across the South, especially in small towns and rural areas.
More than 3 in 10 LGBT adults live in the South – a higher number of LGBT adults than any other region – but Southern LGBT organizations receive less than 4 percent of national funding.
3. CSE's LGBT Rights Toolkit responds to the daily realities that LGBT people in the South face as a result of being second-class citizens; we provide in-person legal clinics and an online Toolkit to help LGBT people in the South protect themselves under current laws and get help in times of need.
The hostile legal climate in the South means LGBT individuals and families must take extra steps to access the few basic legal protections available. This online toolkit (www.lgbtrightstoolkit.org) is designed to help LGBT Southerners – especially those in the rural South – understand and protect their rights.
The toolkit consists of Health Care Power of Attorney forms for every Southern state, LGBT-friendly attorney and physician lists, links to legal and mental health resources, and Name and Gender Change Guides. It also provides current information about changes in state and federal law against the backdrop of a rapidly-changing legal landscape.
As part of our direct services CSE runs Community Law Workshops across Mississippi, North Carolina and South Carolina. 830 individuals received free legal education and 526 individuals completed a Health Care Power of Attorney form on site at our workshops. These forms are completed with the assistance of an attorney and notarized, so that individuals leave the workshop know that with that document in hand their medical choices will be respected in the event of a medical emergency.
A New Approach:
Across the South, LGBT people lack basic legal protections, face robust opposition to our rights and have limited resources for advocacy. LGBT people in our region are also at an elevated risk of poverty. Beyond this, the South receives less than five percent of the total annual funding that goes to LGBT organizations nationally. Factors like this contribute to the commonly held belief that the South is "unwinnable" when it comes to LGBT rights.
But we hold a different view and feel deeply hopeful about what's possible in the South.
1) We believe there is a pressing need for advocacy, legal and crisis response services for LGBT people in the South.
2) We believe that federal equality is the most efficient and effective pathway to equality for LGBT people in the South. We also believe LGBT people and allies in the South are uniquely positioned to accelerate winning full equality on the federal level by directly resisting discriminatory laws and systems.
3) We believe that every person – including those conflicted about or opposed to LGBT rights – can become an ally.
As a result, we're taking a new approach, building upon a rich legacy of civil rights organizing in the South and working in close partnership with other LGBT and civil rights groups.
Mission:
Based in the South, the Campaign for Southern Equality is a national effort to assert the full humanity and equality of lesbian, gay, bisexual and transgender people in American life and to increase public support for LGBT rights.
Ethical Basis:
CSE's work is based upon empathic resistance, a new ethic which calls for 1) resisting persecuting systems by expressing the authentic self; and 2) approaching those who oppose your rights with empathy.
Background:
CSE was launched as a non-profit in 2011, after a 6-year period of planning and research.