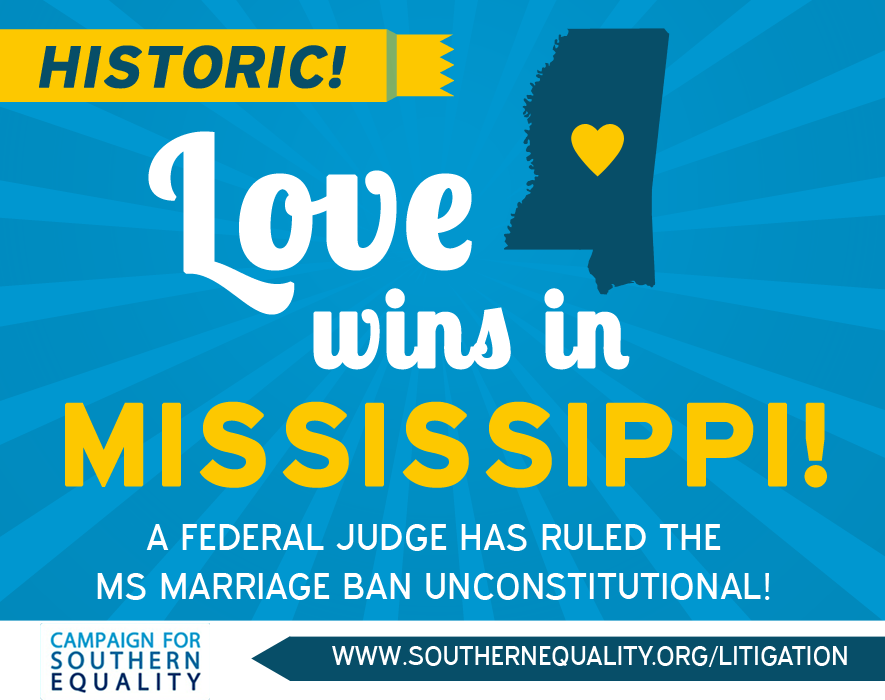 U.S. District Court Judge Carlton W. Reeves issued a ruling this evening in Campaign for Southern Equality v. Bryant, striking down Mississippi's ban on same-sex marriage. Judge Reeves placed a 14-day stay on the order.
The order can be found here: http://bit.ly/1thJuaT
"Soon, families throughout this country will be gathering together to celebrate Thanksgiving. Our clients and thousands of other gay people throughout the State of Mississippi can now enjoy their turkey and pecan pie with their families thankful that a court has recognized that their government must treat them the same as everyone else. This is a big day since it means that gay Mississippians will have the right to be married in their own home state that they love so much. It is also a big day for our country and for our Constitution, since it means that Americans in yet another state can now appreciate that gay people, who are their neighbors, friends and family members, have the right to equal protection of the laws," said lead counsel Roberta Kaplan.
"We are overjoyed that gay and lesbian families in Mississippi are finally equal under the law and that a shameful, discriminatory law has been struck down. As soon as marriages begin, gay Mississippi families will be able to conduct their lives knowing that a safety net of legal protections surrounds them, and knowing that their fundamental dignity has been affirmed by their home state," said Rev. Jasmine Beach-Ferrara, executive director of CSE.
The 5th Circuit Court of Appeals, which has jurisdiction over Mississippi, has scheduled oral arguments in two similar marriage cases from Texas and Louisiana for the week of January 5, 2015. Currently, same-sex couples can marry in 35 states across the nation, including a growing number of Southern states.
Campaign for Southern Equality v. Bryant challenged the constitutionality of marriage laws in Mississippi that ban marriage between same-sex couples and deny recognition of same-sex marriages performed out-of-state. The lawsuit was filed on October 20, 2014, on behalf of two same-sex couples – Andrea Sanders and Rebecca Bickett, and Jocelyn Pritchett and Carla Webb – and the Campaign for Southern Equality. At a November 12th hearing, plaintiffs argued for a preliminary injunction that would immediately strike down Mississippi's ban on same-sex marriage.