The Campaign for Southern Equality is a 501(c)(3) non-profit organization. All donations to the Campaign for Southern Equality are tax-deductible to the full extent of the law.
The Campaign for Southern Equality is calling for full equality in every sphere of life for LGBT people across the South. Yet the reality is that LGBT Southerners continue to face discrimination every day. Your gift makes this work possible as we build the movement for equality together. Specifically your donation will go toward:
1) The WE DO Campaign. To date more than 115 couples in 7 Southern states have applied for marriage licenses as part of WE DO in order to call for their rights. The campaign has been covered by USA Today, MSNBC, Chicago Tribune, the Associated Press and many more outlets. We're telling a new story about LGBT life in the South. WATCH:
2) Expanding our LGBT Rights Toolkit. As we call for rights we must also respond to the urgent need LGBT people have for legal protections under current law. During 2014, CSE ran 13 Community Law Workshops in North Carolina, Mississippi and South Carolina, led by licensed attorneys. These workshops help LGBT people learn about and protect their rights, helping them take immediate steps like completing health care power of attorney forms or starting the name change process.
3) Growing our Hometown Organizing Project. CSE trains and empowers local leadership across the South to create awareness about LGBT issues and work for legal rights in their own communities. Our annual LGBT* Rights in the South conference brings together more than 200 LGBT organizers to coordinate and collaborate on how to win rights in the South.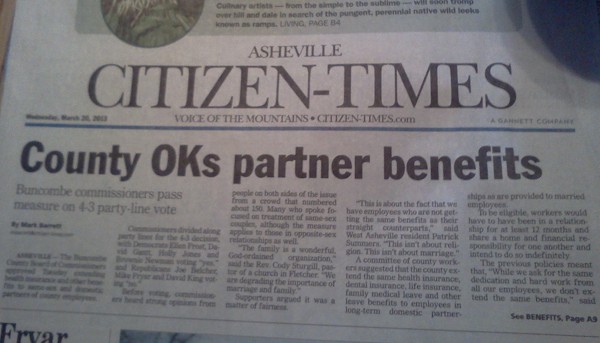 4) Legal challenges to state bans on same-sex marriage.
Mississippi: U.S. District Court Judge Carlton W. Reeves issued a ruling on November 25 in Campaign for Southern Equality v. Bryant, striking down Mississippi's ban on same-sex marriage!
Checks can be mailed to: Campaign for Southern Equality | P.O. Box 364, Asheville, NC 28802.
To make a gift of STOCK OR MUTUAL FUNDS, please review the information and instructions on this form, Securities Donations to CSE.
CSE is a 501(c)(3) non-profit organization. All donations to CSE are tax-deductible to the full extent of the law. Our Federal Tax Identification number is 27-4064401.