Thank you for supporting our work for LGBT rights in the South.
All gifts to CSE are tax-deductible to the full extent of the law.
1) Allow us to run more stages of the WE DO Campaign. To date more than 110 couples in 7 southern states have applied for marriage licenses as part of WE DO. The campaign has been covered by USA Today, MSNBC, Chicago Tribune, AP and many more outlets, telling a new story about the urgent need for equality in the South.
2) Expand our LGBT Rights Toolkit, because as we fight for equal rights we must also help LGBT people protect their rights under current laws, by providing free legal clinics and current information about resources and rights. During 2014, CSE will run 9 Community Law Workshops in North Carolina.
3) Grow our Hometown Organizing Project, which trains and empowers local leadership across the South to create awareness about LGBT issues and work for legal rights in their own communities.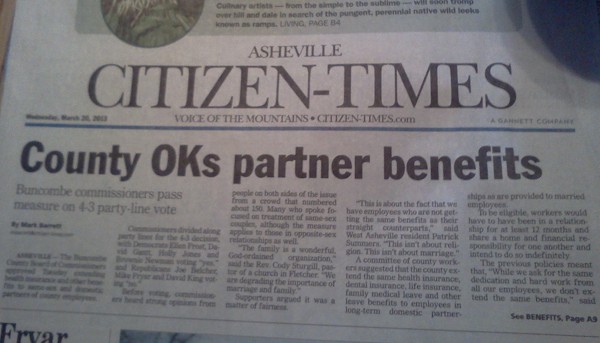 ---
Checks can be mailed to: Campaign for Southern Equality | P.O. Box 364, Asheville, NC 28802.
To make a gift of STOCK OR MUTUAL FUNDS, please review the information and instructions on this form, Securities Donations to CSE.
---
CSE is a 501(c)(3) non-profit organization. All donations to CSE are tax-deductible to the full extent of the law. Our Federal Tax Identification number is 27-4064401. If you have questions, please don't hesitate to contact us at 828.242.1559 or info@southernquality.org. Thank you for your support!